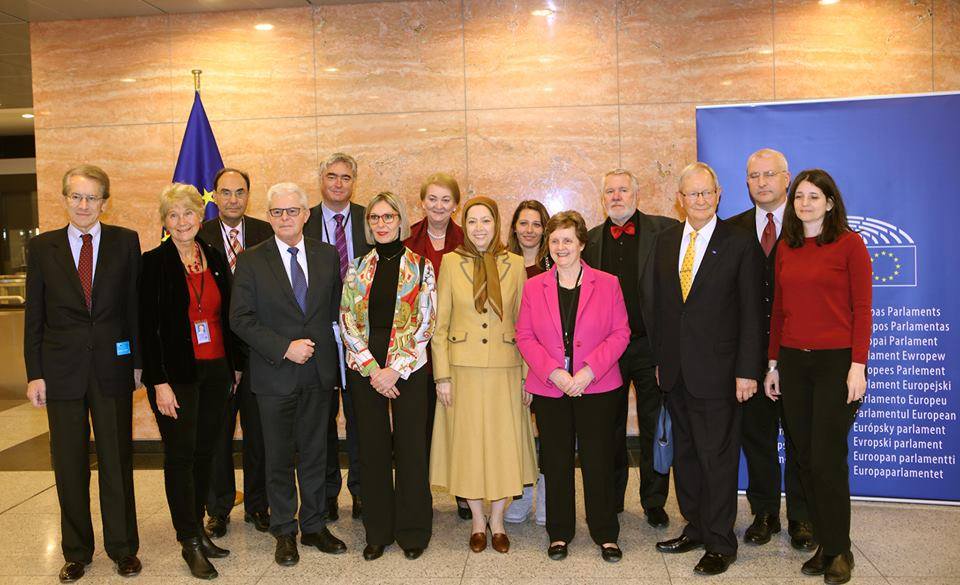 Iranian opposition needs widespread support in 2019




د. ماجد ربيزاده : المعارضة الإيرانية تحتاج إلى دعم واسع النطاق في عام 2019


Dr. Majid Rafizadeh/Arab News/January 06/19
For most of us, the New Year may mean going to a party and perhaps committing to a ridiculous diet or unsustainable workout plan. For the Iranian people, it marks an entire year of sustained protests, not just against the dismal economic situation but also against the regime itself, with widespread calls for its overthrow.
The initial uprisings that sparked civil unrest in some 142 Iranian towns and cities across all 31 provinces were met by the regime with brutality and a harsh crackdown, leading to questions about how long the public outcry could be sustained.
Despite the skepticism of many Western media outlets, strikes and demonstrations continued, with notable flare-ups, throughout 2018. In July, a major five-day anti-government protest spread across dozens of cities, while, in August, Tehran and 26 other cities saw large demonstrations.
It is important to point out that, over the past few months, eruptions of dissent have intensified and become more frequent. The Islamic Republic's response has been anchored in playing the blame card. The regime has time and again blamed its enemies or the opposition, namely the National Council of Resistance of Iran (NCRI) coalition, as the major instigators. Indeed, it was the opposition that predicted the unrest would be ongoing and unstoppable.
It seems that the NCRI's crucial organizational role has made the opposition a primary target for a spate of attempted terror attacks in Europe. For example, in France, Iranian diplomats hatched a plot to bomb the opposition's annual gathering, targeting its leader Maryam Rajavi, thousands of her supporters, and numerous American and European dignitaries in the audience. That attack and others have thankfully been foiled, but the message from Tehran is clear — as is the extent to which the mullahs feel threatened by the opposition.
The regime's willingness to accept the potential political and economic consequences of wreaking such havoc, despite Iran's dire economic straits and political isolation, pretty much says it all.
The fact that such protests are widespread, enduring and involve nearly every stratum of Iranian society is a historic development, unprecedented since the 1979 revolution.
In October and December, nationwide teachers' strikes took place across 100 cities, while truck drivers have been on strike for the past few months, a grave development considering that many Iranian exports are transported using trucks.
The fact that such protests are widespread, enduring and involve nearly every stratum of Iranian society is a historic development, unprecedented since the 1979 revolution. These appear to be public calls not only for an end to the people's miserable living conditions, but also for the downfall of the regime responsible for them. Every protest is an act of defiance, with each protester literally putting life and limb on the line.
The previous US administration's "sanctions relief," which even saw massive shipments of billions of dollars to a cash-starved regime on its last legs, hasn't been a saving grace for the ordinary Iranian people. Most of the money went to one of two places: Either funding expensive military campaigns in Syria, Yemen, Iraq, Gaza and elsewhere, or to businesses run by the Islamic Revolutionary Guard Corps and its ilk. In addition, the Iranian regime intensified its ballistic missile activities, which includes the illicit transfer of such weapons to Shiite proxies in other countries in the region, such as Iraq and Lebanon. According to UN chief Antonio Guterres, parts of missiles fired at Saudi Arabia by the Houthis in Yemen also came from Iran.
Almost all major businesses in the country, including those presently dealing with European nations, are directly or indirectly controlled by elements within the political and military apparatus and either line the pockets of the elite or fund terror attacks in Europe and beyond. So, when European countries help increase the regime's revenues, they are indirectly funding terror attacks on their own soil, while ordinary Iranians continue to suffer.
This year, Iranians and all those who have suffered for so long under the regime have plenty to celebrate, but there is much still to be done. The next few months appear to have a bleak outlook for the ruling regime and decidedly hopeful prospects for the resistance, the Iranian opposition and leading opponents. While 2018 was the most significant to date for the Iranian resistance, this year promises to be even more vital in the struggle for freedom and human rights in Iran.
Let us hope that European governments resolve to change their policies instead of looking the other way. Likewise, we should make this year the year that Western governments come out in support of the Iranian resistance, the people and their right to self-governance and a democratic system of governance. That means reaching out to the Iranian people and the opposition, which continues to be a thorn in the regime's side and advocates for a democratic Iran.
These changes aren't just the right thing to do, they are good policies. And, this year, they are possible as long as advocates for a free and democratic Iran continue to make their voices heard.
*Dr. Majid Rafizadeh is a Harvard-educated Iranian-American political scientist. He is a leading expert on Iran and US foreign policy, a businessman and president of the International American Council. Twitter: @Dr_Rafizadeh