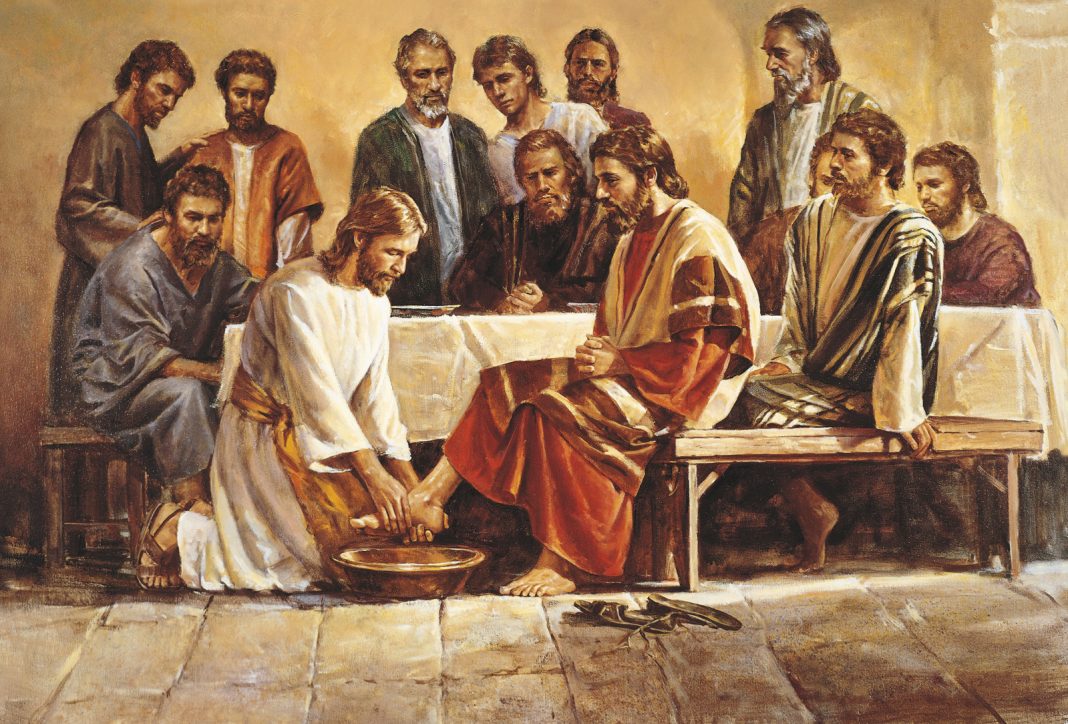 Modesty is A Grace From Almighty God


الياس بجاني: التواضع نعمة ربانية


Elias Bejjani/December 21/12/18

Jesus Christ Himself has set the best and most powerful role model in modesty when with humility, joy and enthusiasm He washed his disciples feet.
"He has scattered the proud in the imagination of their hearts. He has put down princes from their thrones. And has exalted the lowly. He has filled the hungry with good things. He has sent the rich away empty". (Luke 01/51-54)
Those who falsely delude themselves into thinking they are superior to others, super wise and can do everything and any thing, fall into the evil trap of arrogance. By doing so they badly detach themselves from the reality of God's love. They build delusional castles in their minds, imprison themselves inside its imaginary gates and ultimately become completely blind in both heart and soul .
Arrogant individuals inevitably become hostile, angry, childish, selfish, antisocial and narcissists who end to be not welcomed anywhere. In general people avoid those who brag and exalt themselves.
Arrogance is a very serious social problem caused by lack of faith that needs to be fixed before it gets worse. God does not bless those who are arrogant.
Almighty God has made it very clear in His Holy Book that He does not like those who are pompous, proud, and conceited because He Himself is a caring, humble, and meek Father.
"Come to me, all you who labour and are heavily burdened, and I will give you rest. Take my yoke upon you, and learn from me, for I am gentle and lowly in heart; and you will find rest for your souls. For my yoke is easy, and my burden is light." (Matthew 11:28-30)
Meanwhile, we cannot solve any problem unless we admit that it actually exists, and at the same time become fully aware of its causing factors.
We cannot defeat the evil of arrogance and the destructive self-exaltation that results unless we know our own capabilities, means and resources. And most importantly, recognize that all people are brothers and sisters to one Father, the Almighty God.
One might wonder why some people tend to behave in such a way that they end being socially hated and isolated?
This social Isolation takes place mainly because of their ignorance, distorted self-image, and most importantly because they have very little or no faith at all.
They fail to gain genuine friends and have no room for intimate and long lasting relationships.
Even their close family members avoid them and do not feel comfortable in their presence.
They cannot love others because of their narcissism.
These disturbed individuals need to be humble, loving, and honest to overcome their arrogant behaviour.
They need to call on Almighty God for the grace of humility knowing that God always responds to our calls and prayers when we put our full trust in Him, recognize His love, and lay our lives in His generous hands.
"Most certainly I tell you, if you have faith, and don't doubt, you will not only do what was done to the fig tree, but even if you told this mountain, 'Be taken up and cast into the sea,' it would be done. All things, whatever you ask in prayer, believing, you will receive." (Matthew 21/21-22)
Humility is the magic curing medicine for arrogance. This heavenly grace is always there for us if and when we pursue it with faith and unquestionable trust in God. Knowing what humility means to our lives and for our salvation is critically important.
The fear of the LORD is the beginning of wisdom; all who follow His precepts have good understanding. To him belongs eternal praise. (Psalm 111:10)
There is humility that comes from the fear of God, and there is humility that comes from God Himself. Some are modest because they fear God, and some are modest because they know how to live with all the heavenly endowments that banishes all doubts, fears, selfishness, hatred, covetousness and grudges from our earthly nature.
Those who fear God are humble because they enjoy peace within themselves.
Those who fear God watch what they say and do, find sweetness in their bodies which are God's temples, and experience the priceless grace of balance in their senses, granting them full control over their instincts and a forgiving heart at all times.
Those who are humble because they know and experience genuine happiness with purity, enjoy great simplicity all the time with a cheerful and transparent heart.
God loves the humble and always comes to their rescue so that no hardships or evil things can weaken their faith, entraps them into the temptations of the wicked and unrighteous, or makes them slaves to sin.
Jesus Christ Himself has set the rules in regards to humility:
"But he who is greatest among you will be your servant. Whoever exalts himself will be humbled, and whoever humbles himself will be exalted." (Matthew 23/11-12)
The Bible (Malachi 4/1-6), Tells us exactly what the proud and wicked will be facing on the Day of Judgment. Let us never forget this or keep a blind eye on it: "For, behold, the day comes, it burns as a furnace; and all the proud, and all who work wickedness, will be stubble; and the day that comes will burn them up," says Yahweh of Armies, "that it shall leave them neither root nor branch. But to you who fear my name shall the sun of righteousness arise with healing in its wings. You will go out, and leap like calves of the stall. You shall tread down the wicked; for they will be ashes under the soles of your feet in the day that I make," says Yahweh of Armies. "Remember the law of Moses my servant, which I commanded to him in Horeb for all Israel, even statutes and ordinances. Behold, I will send you Elijah the prophet before the great and terrible day of Yahweh comes. He will turn the hearts of the fathers to the children, and the hearts of the children to their fathers, lest I come and strike the earth with a curse."
In conclusion, humbleness is a blessed grace that we need to pursue via faith, love and fear of God. To be really God's children we must dearly hold on to this grace and integrate it into our every day life, heart, mind and practise.
We are all equal and have one Father who created us on his image.
We are all one family, brothers and sisters no matter who we are.
We are all children of God no matter where we live, what our racial identity is, the language we speak, the social status that we enjoy, the wealth that we have, the strength that we possess, and even whether we are good or sinful.
Almighty God is our loving Father and accordingly we must learn to be humble before Him and love each other more intimately as members of His own one family.