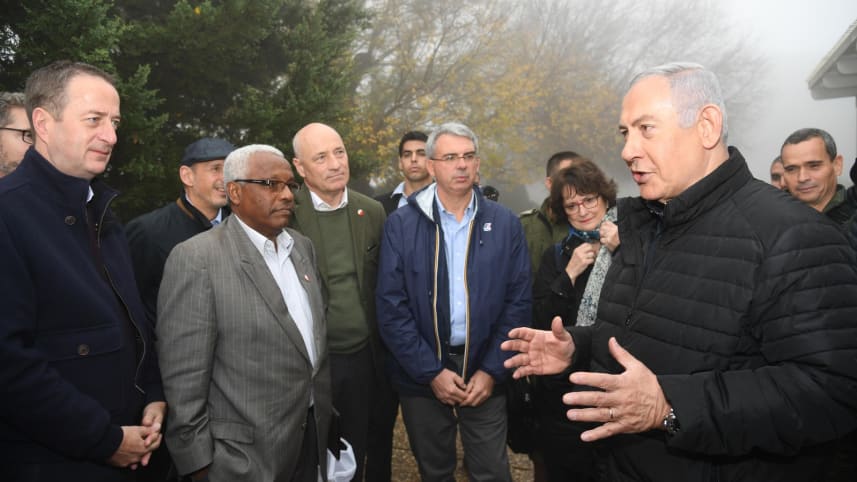 Netanyahu Visits Lebanon Border; 'Iran's Entrenchment in Syria Has Been Halted'
هآررتس: نيتنياهو يتفقد الحدود مع لبنان ويؤكد أن تحصن إيران في سوريا قد اوقف
Haaretz/December 06/18
Official warns Lebanon against being part of an Iranian weapons corridor: 'There is a likelihood that we'll have to act in Lebanon'.
Prime Minister Benjamin Netanyahu visited the Israel-Lebanon border on Thursday afternoon to brief foreign diplomats on the Israeli army's operation to destroy Hezbollah tunnels, which was launched on Tuesday.
A senior Israeli official said that Iran's force in Syria has been curbed significantly as a result of Israeli actions against its entrenchment in the country. The official added that Iranian funds funneled for that purpose have decreased thanks to U.S. sanctions.
"The Israel Defense Forces is the only army in the world operating against the Iranian military. Iran's entrenchment in Syria has been stopped," the official said.
The source added that the timing of the army operation was due to a leak and subsequent concerns that the operational details would be exposed to Hezbollah. "We were concerned that if Hezbollah saw the leak they would expedite their kidnapping efforts," the official said.
According to the source, Iran's main effort is Hezbollah; thanks to the Islamic Republic, the militant organization has 140,000 rockets – an arsenal which mainly consists of short-range missiles but also includes several precision weapons "They wanted to have thousands of these [precision weapons], but they only have a few dozen. Why? Because we blocked them… their main sites have been destroyed," he said.
"If there is a weapons transfer route from Iran to Lebanon, Lebanon will be in deep trouble," the official said. "There is a likelihood that we'll have to act in Lebanon," he said.
Netanyahu told foreign diplomats Thursday that "there's nothing they can do, we have neutralized them. It's one of the reasons we didn't launch the Gaza operation, though there were other reasons."
The premier said that, "We are systematically taking the tunnels weapon from our enemies and we will act decisively and systematically against anyone who attacks us. Hezbollah and Hamas know this."
The prime minister added: "What we're facing is one big enemy. That enemy is called Iran."
In September, Netanyahu revealed that Hezbollah built weapons storage facilities in the heart of the civilian population in Beirut. The missile storehouses are part of joint effort of Iran and Hezbollah to upgrade the organization's missile forces, while Hezbollah's goal is to convert its present missiles and build a long-range precision ground-to-ground missile force.
'Look at your next-door neighbor'
Meanwhile, the IDF Spokesperson released two videos in Arabic on Thursday intended for residents of southern Lebanon.
The first video shows a map of Kafr Kila, the Lebanese village in which one of the alleged cross-border attack tunnels was dug. The video describes active Hezbollah sites inside civilian areas and concluded with the text, "Every third home in southern Lebanon contains terror."
The second video is a summary overview of UN Security Council Resolution 1701, which ended the 2006 Second Lebanon War, followed by a list of alleged Hezbollah violations. The videos were additionally published in English, and the IDF tweeted "Look at your next-door neighbors' houses."
Shortly before the videos were released, Lebanese Prime Minister Saad Hariri said Israel's consistently violates Resolution 1701 by infiltrating Lebanese territory and airspace, but stressed that recent developments are "no reason for escalation."