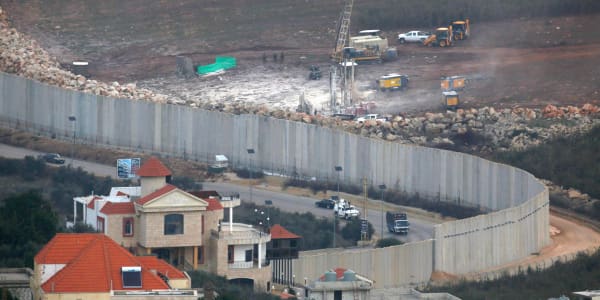 سمدرا بري من صحيفة يديعوت أحرونوت: ما الذي يريد حسن نصرالله الوصول إليه؟
What is Nasrallah up to?
Smadar Perry/Ynetnews/December 05/18
Analysis: Hezbollah leader Hassan Nasrallah knows that Israel knows his exact whereabouts but yet refrains from targeting him, unless perhaps if he allows Iran to drag his organization to a war which Lebanon can ill afford right now.
Where is Hassan Nasrallah? On Tuesday, three Lebanese parliamentarians and newspaper editors tried to pressure Hezbollah's secretary-general to appear and deliver a "vigorous speech," not only to refute information circulated by Israel, but also to threaten Israel with a wide-scale operation. But Nasrallah chose not to respond. He himself has threatened, on multiple occasions, to attack northern Israel and over the weekend Hezbollah broadcast a video displaying "targets" in Israel, with maps of IDF bases, Defense Ministry headquarters and threats in Nasrallah's voice.
But on Tuesday, Nasrallah preferred to dispatch Hezbollah fighters, in civilian clothing, to portray an image of calm from the villages of south Lebanon. I hear from senior officials in Beirut that Nasrallah has in recent days played a moderating role between Hezbollah, Iran and Syria, which is re-eyeing Lebanon enviously. Nasrallah sent his men to inform the Iranians that "this is not the right time to enter into confrontations with Israel."
The tunnels in southern Lebanon are nothing new. Ask residents in the northern communities how, over the last few years, they have been hearing the sound of digging tunnels. What is new is the massive Iranian presence that is now coming out of Syria.
The Iranians who failed to securely entrench themselves in Syria seek to turn Lebanon into an arena of confrontation with Israel and to recruit Hezbollah for the task.
Nasrallah is already stuck in a confrontation with Lebanese Prime Minister Sa'ad Hariri on the formation of his new government coalition. But the two have a common interest: Neither of them needs a confrontation with Israeli now. Hariri also does not want the Iranians and the Syrians in Lebanon at all. Hariri met with US Ambassador to Lebanon Elizabeth Richards to convey the message that he cannot afford a new round of confrontation with Israel.
Once again we read in the Russian media, not coincidentally, that Israel is plotting to expand the operation into Lebanon in order to eliminate Nasrallah. But even Nasrallah knows that this is not Israel's intention. One can even say that Nasrallah is actually protected. Israel has no plans to eliminate him now, and we know that if Nasrallah disappears, there is always a willing new leader for Hezbollah to take his place. Israel has grown accustomed to Nasrallah and his dramatic performances are familiar to us, with all the threats he likes to issue.
We must recall that Hezbollah has huge quantities of missiles, some of which can reach almost the entire territory of the State of Israel. And yet Hezbollah does not use them. And another fact: Israel knows exactly where Nasrallah is hiding, at what address, on what floor, and yet did not even try to kill him once. To some extent he is protected, unless he commits a terrible folly.
It is likely that he will appear within a few days to convey a message to his organization's members, to the Lebanese government, and to Israel as well.
Resident of the north warned about tunnels but were ignored
تقرير من صحيفة يديعوت أحرونوت: سكان الشمال الإسرائيلي خذروا من الأنفاق لإر أنهم أهملوا الأمر
Lior El Hai, Goel Beno/Ynetnews/December 05/18
Residents of the north say they've been notifying authorities about tunnel threat for years, but were blatantly ignored; Gabbi was told 'the rocky ground is not fit for tunnel digging'; it turns out the residents were right all along—Hezbollah men were walking under their feet.
Residents of the north, residing in the vicinity of the Lebanese border, said Wednesday, following the launch of Operation Northern Shield, that they have been notifying authorities about the tunnel threat for years, but were blatantly ignored.
"I told the army I was hearing strange noises back in 2013. They came, checked the area and told me the noise came from a water pool and a stalactite cave. Now I know I was right," said Shula Asayag, 70, who has been living in Zar'it, a moshav near the Lebanese border, for the past 50 years. She is not the only one. Many residents of the north said at the launch of Operation Northern Shield Tuesday that they told authorities about Hezbollah's tunnels a long time ago, but no one was listening.
"For years, when my children come to visit, they are too afraid to stay the night," said Asayag. "Now, when the tunnels are exposed, I am more at ease, they are taking care of it. By the way, I'm not afraid for my life, I'm afraid for the lives of the soldiers."
David Ozana, 65, who lives 300 meters away from the border, also suspected something is going on beneath the surface: "I reported hearing drill noises, the army arrived with a drill and assured us that there was nothing wrong. Perhaps they only said so to deceive the other side. But the moshav brought in experts who determined with certainty that tunnels were dug here—it turns out they were right. I have no doubt that a horrible disaster was prevented."
Galit Levy, 28, was born in Zar'it when sounds of Katyusha rockets ripped through the air. "We heard the sound of explosions, and saw trucks moving dirt piles across the border. IDF forces came in and inspected the area, but, it's not pleasant to say but it's the truth: they were looking in the wrong places. Today, I am more at ease but as a mother I have a responsibility: if something happens, I will leave Zar'it in a second. It's very frightening to think about terrorists infiltrating Israel underneath our feet. Not too far from here, soldiers were kidnapped," she explained.
Beni Ben Muvhar, head of Mevo'ot HaHermon Regional Council, said he warned about the tunnel threat four years ago. "They thought I was crazy," he disclosed and added that he is "glad the army didn't ignore the residents' warnings. I assume the chief of staff knows exactly what he's doing."
Shlomi Local Council Chairman Gabi Naaman asked his employees to inspect the shelters in town, 136 in number, and go over procedures. "It's good that the army exposed the tunnels," he acknowledged. "In the past we were told the ground is too rocky for tunnel digging. Today, we are left with one big question mark: If we don't go to war now, we will suffer ten times more in the future."
The pressure was also felt in Metula. "After years of trying to calm our families and convince ourselves that there's nothing to be afraid of, we now feel like the enemy is walking under our feet," said Yossi Levit, whose family has been farming in Metula for a century. "Some people were hearing noises over a long period of time. We calmed them down. I told them that Metula is very close to the border so why would Hezbollah dig if they can cross the border above ground? It turns out that I was wrong and they were right. "
Ravit Sandler Jaffe, 40, a member of the Metula Local Council, added: "We continue our daily routine, the children go to summer camps and kindergarten, but there is a sense that life is changing around us. The tunnel issue has been raised a few years ago. Residents began to ask: 'If this happens in the south, when will it reach us?' We constantly see Hezbollah men moving along the border. There is also a large quarry nearby. It was only a matter of time until it would reach us. In the south we see how long this thing (tunnel threat—ed.) has been going on. We hope that things will be different in the north."
The land, which IDF forces dug as part of Operation Northern Shield, belongs to farmer Levav Weinberg who grows apples on it. Weinberg, second generation of Metula farmers, said the army had been operating in the site for several months now. "There was military activity inside the apple orchard and near the border fence, but only now did I realize what it was all for," he said Tuesday.
On Monday night, Weinberg was asked to come to the site and dismantle several water heads so they don't interfere with IDF's activity. "On Tuesday we received an order to stay away from the orchard and so we worked in the valley," he went on to say.
Later on, he was allowed to enter the site. "It is a complicated situation; when I went there on Tuesday I saw the orchard completely destroyed. Nevertheless, of course it's not what matters, what matters most is that terror activity was prevented."
Weinberg added that until recently, farmers from Metula interacted with their colleagues on the other side of the border. "It's not that we drank coffee together or had conversations, but when we passed each other, we waved. The construction of the wall was completed recently, and there is no longer any eye contact between us. In the northern part of the border, where there is no wall, interactions between Israeli and Lebanese farmers still exist," he concluded.