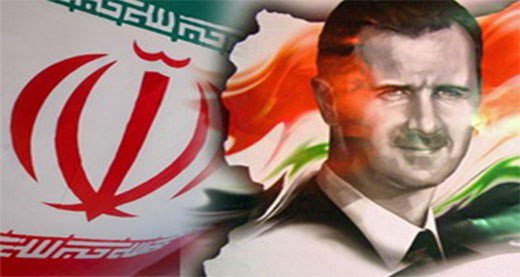 Anti-Syrian Regime Websites: Regime Granting Citizenship To Millions Of Iranians, Hizbullah Operatives To Change Country's Demography From Sunni To Shi'ite Majority, Conceal The Fighters' Presence In Syria
موقع ميمري: نظام الأسد يجنس ملايين الإيرانيين وحزب الله يغير الديموغرافيا السورية ليصبح الشيعة فيها أكثرية
MEMRI/November 21/18
Throughout the Syria war, websites opposed to the Assad regime have repeatedly claimed that this regime and its ally Iran were using the war to change Syria's demography by expelling Sunni populations, deemed a potential threat to the regime, and bringing in Shi'ites, who are more likely to support it. According to these reports, the Assad regime and Iran use a variety of methods – including threats, siege and starving – to compel Sunnis to emigrate and then seize their property and replace them with elements loyal to the regime, including non-Syrians.[1] President Assad outlined this policy in a July 2015 speech, saying, "The homeland does not belong to those who live there, nor to those who hold a passport or are citizens. The homeland belongs to those who protect and guard it."[2]
In the recent months, several websites reported that the regime was naturalizing thousands and even millions of Shi'ites, members of Iranian and Iran-backed militias that are fighting alongside the Syrian army.  On November 17, 2018, for example, the Saudi website elaph.com and the Syrian opposition website nedaa-sy.com posted what they claimed was a letter from the head of Syria's General Intelligence to Syria's interior minister. The letter contained a list, provided by the "special office" in the Syrian President's Office, of Iranians to be granted Syrian citizenship. According to Elaph, this is only one of thousands of documents in its possession indicating "systematic action by the regime to settle Iranians throughout Syria."
This report joins many others published in the past claiming that the Syrian regime has granted citizenship to some two million Iranians, including operatives of Iran's Islamic Revolutionary Guards Corps (IRGC).Other reports state that the regime is also granting citizenship to Hizbullah operatives deployed in southern Syria, along the border with Israel. This may be an attempt to conceal the presence of Hizbullah in the region, which contravenes the understandings reached between Israel and Russia.
This document reviews the recent reports about the granting of Syrian citizenship to Iranians and Shi'ite militia members. 
President's Office Presents Interior Minister With List Of Iranians To Be Naturalized
As stated, on November 17 the elaph.com website posted a document signed by the head of Syria's General Intelligence and addressed to the Syrian interior minister. Attached to the document was a letter from the Syrian President's Office listing several Iranian nationals and instructing the minister to add them to Syria's civil registers in four governorates – Damascus, Rif Dimashq, Aleppo or Deir Al-Zor – and inform the General Intelligence of the identity numbers issued to them, listed by governorate. The document, numbered 59954/s.r.sh, reads: "Attached please find a letter, no. 5170, from the Presidency of the Republic – Special Office, instructing to add the names below to the civil register and inform us of their identity numbers and details, listed by governorate – Damascus, Rif Dimashq, Aleppo and Deir Al-Zor."
This is followed by a table:
Name

Surname

Name of father

Name and surname of mother

Place and date of birth

Religion and sect

Gender

Marital status

Date of registration

Comments

Rahman

Rasoul

Maytham

Jumana

Tehran

January 21, 1960

Islam

Male

Married

Reza

Shikhan

Moussa

Azita

Persepolis February 27, 1980

Islam

Male

Married

Ali

Sharir

Javad

Zahra

Qom

January 30, 1987

Islam

Male

Married

Kabir

Zada

Ali

Salam

Isfahan

December 9, 1979

Islam

Male

Married

Mahmoud

Rajavi

Javad

Raqia

Kish

April 3, 1988

Islam

Male

Unmarried

Karrar

Najadi

Ahmadi

Afsoun

Tabriz

January 25, 1990

Islam

Male

Unmarried

Sheikho

Sabbar

Ali

Suzan

Baveh

September 1, 1990

Islam

Male

Unmarried

Rafiq

Dara

Hossein

Batoul

Tabriz

Islam

Male

Married

Jaafar

Sheikhan

Haider

Sakina

Tehran

February 6, 1980

Islam

Male

Married

Mojtaba

Sarour

Sadeq

Khadija

Mashhad

January 7, 1990

Islam

Male

Married

Ali

Sader

Zada

Maryam

Shiraz

February 9, 1991

Islam

Male

Married
The document as it appeared on the site
The website noted: "These official documents indicate that the Syrian regime is systematically settling Iranians in different parts of Syria in order to change the demography [of these areas] by granting citizenship to Shi'ite Iranians and settling them in Sunni areas whose original inhabitants have been expelled… The document presented [here] is not the only one; hundreds of thousands [of Shi'ite] have been granted [Syrian] citizenship and settled in various areas, most of them members and operatives in the Iranian IRGC… These Iranians have begun to receive Syrian citizenship, as preparation for bringing in their families and settling in the areas to which they have been assigned."[3]
The document was also posted the same day on the Syrian opposition website nedaa-sy.com, which stated that the Iranians listed in the document were IRGC commanders stationed in Syria.[4]
Syrian Opposition Website: 200,000 Shi'ites And Iranians Have Been Issued Syrian Passports On Orders Of Presidential Palace
As stated, this report joins others from the recent months claiming that the Syrian regime is granting citizen status to Iranians and other members of the Iran-backed Shi'ite militias that are fighting alongside the Syrian forces. On April 2, 2018, the Syrian opposition website zamanalwsl.net reported that "the Passports and Immigration Department in Damascus recently issued 200,000 passports to Iranians" on orders of the Syrian security apparatuses, officers at the presidential palace and associates of the president's brother, Maher Al-Assad. The report stated further that this was part of naturalizing Iranians as well as Afghan and Pakistani Shi'ite militiamen fighting in Syria, and that the move was aimed at granting the foreign militias legal status that would enable to maximize their efficacy in the future.[5]
Lebanese Daily: Two Million Shi'ites, Including Hizbullah Fighters, Have Been Issued Syrian Identity Cards
On May 30, 2018, the Lebanese daily Al-Nahar published an article by journalist Ahmad 'Ayyash which stated, citing diplomatic sources, that the Syrian president "has issued [Syrian] identity cards to some two million Iranians and operatives of militias belonging to the Iranian IRGC Qods Force, and to their families, as well  to Hizbullah [operatives]. The [regime] does not just issue them Syrian identity cards, but helps them to settle in parts of Damascus's Ghouta and in the rural areas of Damascus, Hama, Homs and Aleppo that have been emptied of their original inhabitants." According to the article, this is part of the regime's compliance with the interests of Iran and the militias subordinate to it. It added that "many members of the Iranian regime have obtained Syrian identity cards in order to evade the American sanctions."[6]
Report: Hizbullah Operatives In Southern Syria Near Israel Border Are Being Naturalized
Another report about the naturalization of Hizbullah members appeared October 14, 2018 in the Syrian opposition website smartnews-agency.com. This report claimed that Hizbullah operatives in Dara Governorate, in southern Syria near the Israeli border, were being issued Syrian identity cards. According to the website, these operatives arrive at the civil registry offices in Dara and demand to be issued identity cards, and if the local registrar refuses, a regime officer arrives and orders him to comply.[7]
In this context it should be noted that the presence of Hizbullah in this area contravenes the understandings reached between Israel and Russia this year, according to which the Iranian and Shi'ite forces must withdraw from southern Syria. The issuance of identity cards to these fighters may be aimed at enabling them to stay there, ostensibly without violating the understandings.
https://www.memri.org/reports/syrian-regime-granting-citizenship-to-iranians-hizbullah-operatives