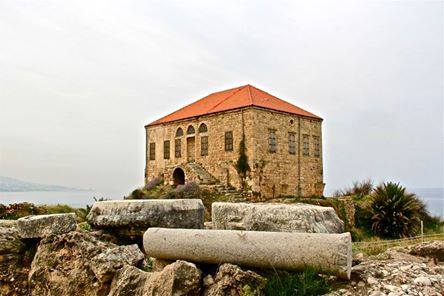 Detailed LCCC English News Bulletin For June 13/2018
Titles For Latest LCCC Bulletin analysis & editorials from miscellaneous sources published on June 12-13/18
My School's Imam: "We Love Western Anti-West Theories"/Majid Rafizadeh/Gatestone Institute/June 12/2018
We and our Friends in Italy and Spain/Eyad Abu Shakra/Asharq Al Awsat/June 12/18
10 Books for a Summer Reading List/Barry Ritholtz/Bloomberg/June 12/18
Has boycott of Qatar failed/Abdulrahman al-Rashed/Al Arabiya/June 12/18
Saving Jordan and discernment in speech/Abdullah bin Bijad Al-Otaibi/Al Arabiya/June 12/18
We and our friends in Italy and Spain/Eyad Abu Shakra/Al Arabiya/June 12/18
Anthony Bourdain: A personal eulogy to the man I never met/Walid Jawad/Al Arabiya/June 12/18
Titles For The Latest LCCC Lebanese Related News published on June 12-13/18
Lebanon: Anger over Soleimani's Interference in Elections Results
UN Refugee Agency Hopes Lebanon Will Reverse Freeze on Residency Applications
Bassil Says Important to Preserve FPM-Hizbullah 'Strategic' Alliance
Report: 'Hizbullah-Linked' Moguls Exploiting UAE Real-Estate Market
Sayyed briefs Aoun after STL testimony
U.N. Says Respects Lebanon Sensitivities, Urges Unblocking of Residency Permits
Bassil on Soleimani's Remarks: We're Not Submissive to Anyone
Report: Hariri to Meet State Heads on Sidelines of World Cup Opening in Moscow
Geagea: LF's Govt. Share 'Not for Saudi Arabia'
Decomposed Body Found Near Fidar Bridge
Report: Bassil Escalates U.N. Refugee Staff Residency Permits Row
Lebanese Man Stranded for 42 Days in Ecuador Airport
Nadim Gemayel: Refugee Return Requires Coordination with Syrian Govt.
Titles For Latest LCCC Bulletin For Miscellaneous Reports And News published on June 12-13/18
Trump, Kim Meet at Historic Summit
Kim also sounded positive about the prospects.
IAEA Welcomes Trump-Kim Joint Statement After Historic Summit
Arrest of Gunman Ends Hostage Siege in Central Paris
Netanyahu Offers Iran Solutions for Water Crisis
Israeli Police Question Netanyahu for Third Time in Corruption Probe
Rouhani tells Macron: Impossible to stay in nuclear deal unless Iran benefits
Iraq's Sadr and Amiri announce political alliance
Haider al-Abadi opposes repeat of Iraq elections
Germany Arrests Suspected Iraqi ISIS Member
US Ambassador to Israel Called Back to Washington for the 'Deal of the Century'
Egypt: 4 Terrorists Killed in Arish Clashes
PM-Designate Thanks Saudi Arabia, Kuwait and UAE for Supporting Jordan
7 Slightly Injured as Paris Suburban Train Overturns
Air Strike Kills 10 Civilians in Northeast Syria
Libya Strongman Advances in Battle to Take Eastern City
Yemen President in Rare Visit to Estranged UAE Ally
Anti-Rebel Forces Prepare for Yemen Port Attack despite U.N. Alarm
Casualties as Twin Suicide Attack Hits Eastern Libya
Israel Police Evict Wildcat Settlers as Deadline Looms
Statement by Canada's Foreign Minister following United States-North Korea summit
The Bulletin's Link on the lccc Site
http://data.eliasbejjaninews.com/newselias18/english.june13.18.htm
News Bulletin Achieves Since 2006
Click Here to enter the LCCC Arabic/English news bulletins Achieves since 2006