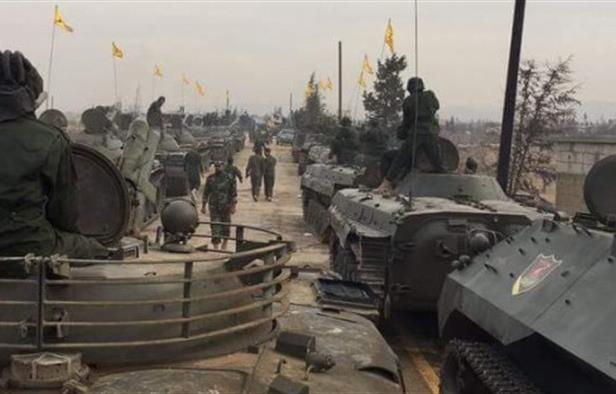 Report: Suspected Israeli strike targets Hezbollah in Syria
اشتباه بغارات إسرائيلية استهدفت حزب الله في سوريا
Ynetnews/News agencies, Smadar Peri and Daniel Salami/May 25/18
Syrian war-monitoring group says Israel suspected of launching strikes on military base overnight in central Syria that houses Hezbollah and other hostile forces to Israel; Syria also blames Israel for one of two strikes carried out Thursday.
A Syrian war-monitoring group says suspected Israeli strikes hit a military base overnight in central Syria that houses Lebanon's terrorist Hezbollah group alongside other factions allied with the government in Damascus.
The Syrian Observatory for Human Rights said on Friday that it's not clear if there are any casualties in the strikes on the Dabaa air base in central Homs province. The base is north of the town of al-Qusair that Hezbollah captured in 2013 from rebels, a turning point in the group's role in the Syrian war.
Syria's state media reported late Thursday that a military base in central Syria came under attack from "enemy" fire. It said Syrian air defenses responded.
Hezbollah and Iran's role in Syria has alarmed Israel and the United States, which have threatened action.
Syrian state media and a military media unit run by Hezbollah said early on Thursday that the US-led coalition targeted Syrian army positions in Syria's desert, but US military officials denied any knowledge of the strikes.
"Some of our military sites between Albu Kamal and Hamimia were exposed at dawn today to aggression launched by US coalition jets," state news agency SANA reported, citing a military source.
A Syrian news agency also reported overnight Thursday that Israeli jets were responsible for carrying out a separate strike against the Dabaa military airfield in Homs.
An explosion was heard Thursday evening in the airfield near the Syrian-Lebanese border, Syrian state news agency SANA reported. The source of the blast was initially unclear.
Opposition news sites also reported that 25 Iranian and Hezbollah fighters had been killed in the strike, but the figure has not yet been verified.
Syrian state media added the military airport had come under a missile attack, which was repelled by its air defense systems.
A news site affiliated with the Syrian opposition reported in the past that the Assad regime had already begun transforming the Dabaa air base, which is situated 30 kilometers west of Homs, for "civil" purposes in cooperation with the Iranians.
The goal of the Syrian regime, according to the report, was to build an alternative international airport to that currently being used in Damascus, which has also been subject to constant attacks by rebels in the country, which has been beset by a bloody civil war.
The pro-Hezbollah newspaper Al Akhbar reported on Friday morning that the attack on the military airbase was "the largest by the Israeli Air Force since the night of the missiles," a term used in reference to the night in which Iran launched 32 rockets at Israeli targets earlier this month.
Israel's response was one of the heaviest barrages in Syria since the conflict there began in 2011.
**Reuters and Associated Press contributed to this report.
Israeli Strike in Syria Targeted Hezbollah Base, Watchdog Says
Haaretz/The Associated Press and Jack Khoury/May 25/18
State media said yesterday that missiles fired at Homs air base were intercepted before reaching targets. Death toll in alleged U.S. strike from Wednesday climbs to 14
A Syrian war-monitoring group said Friday suspected Israeli strikes hit a military base overnight in central Syria housing Lebanon's militant Hezbollah group alongside other factions allied with the Damascus government.
It was not clear if there were any casualties at the Dabaa air base and surrounding areas in central Homs province, the Britain-based Syrian Observatory for Human Rights said. The base, north of the town of al-Qasr near the border with Lebanon, was captured by Hezbollah in 2013 from rebels, marking a turning point in the group's role in the Syrian war.
Explosions were heard late Thursday near an airport in Homs in Syria, Syrian state media reported. According to residents in the area, the blasts were heard near the military airport near the city of al-Qasr.
Syrian state media said a military airport was subject to "missile aggression" and was intercepted by air defense system before it reached its target.
Some witnesses in Syria claimed that aircraft flying from Lebanese airspace conducted the strike, following earlier reports of Israeli aircraft being seen above Lebanon.
"One of our military airports in the central region was exposed to a hostile missile attack, and our air defence systems confronted the attack and prevented it from achieving its aim," state news agency SANA said.
The Syrian Observatory for Human Rights said troops belonging to Hezbollah and other militias allied to Syrian President Bashar Assad are stationed in the Dabaa military airport. It had no information on casualties.
SANA earlier reported sounds of explosions heard near the Dabaa airport, about 20 km (12 miles) southwest of the central Syrian city of Homs and 10 km (6 miles) from the Lebanese border.
The Observatory also raised the death toll from Wednesday night airstrikes in eastern Syria to 14 pro-government fighters, all but two foreign nationals. The Syrian-run media blamed the U.S-led coalition fighting IS for the strikes on military positions between the towns of Boukamal and Hmeimeh in the eastern Deir el-Zour province.
A Syrian source close to the government, meanwhile, said the bombardment struck bases manned by the Iranian Revolutionary Guards allied with the Syrian government.
"Some of our military sites between Albu Kamal and Hamimia were exposed at dawn today to aggression launched by U.S. coalition jets," state news agency SANA reported, citing a military source.
On Sunday, heavy explosions were heard overnight south of Damascus in Syria in an area which holds a security facility used by Iranian forces, Sky News in Arabic reported.
The alleged blasts came days after explosions were heard near Hama airport in Syria last week. The U.K-based Syrian Observatory for Human Rights group said the series of explosions were near Hama's military airport and had been heard in Hama city, killing at least 11 government soldiers and allied fighters. According to reports, the explosions went off in fuel and arms depots.
Last month, the Israeli military targeted an advanced Iranian air-defense system at the T4 base in Syria and not just attack drone deployment, the Wall Street Journal
The report noted that Prime Minister Benjamin Netanyahu ordered the strike after conferring with U.S. President Donald Trump, in hopes of preventing Iran from using the anti-aircraft battery against Israeli jets carrying out strikes in Syria.
The April 9 strike killed seven Iranian military personnel at a Syrian airbase. Iran blamed Israel and vowed to retaliate