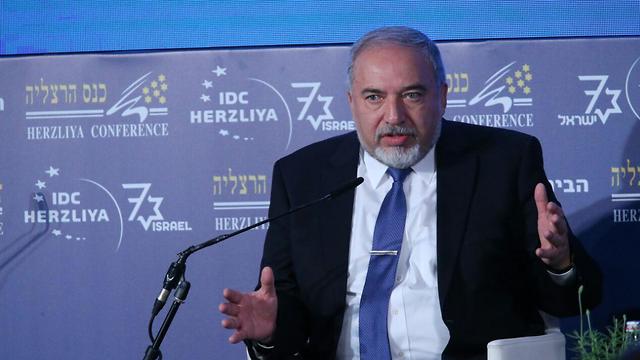 Lieberman says Israel hit 'almost the entire Iranian infrastructure in Syria'
ليبرمان: ضربنا تقريباً كل البنى التحتية في سوريا
Itay Blumental/Ynetnews/May 10/18
Speaking at the Herzliya Conference, the defense minister addresses the Iranian attack on bases in the Golan Heights on Wednesday night and Israel's response; 'They must understand that if it rains here, it will pour there,' he warns.
Defense Minister Avigdor Lieberman said Thursday that, unlike Iran, Israel wasn't trying to build a new border and expand.
"Iran is the one constantly trying to expand and create new proxies and fronts," Lieberman told the Herzliya Conference, addressing the escalation in Syria on Wednesday night following an Iranian attack on Israeli bases in the Golan Heights and the Israeli strikes against dozens of Iranian targets in retaliation.
"We hit almost the entire Iranian infrastructure in Syria," he said. "They must understand that if it rains here, it will pour there.
"Their activity isn't limited to the State of Israel," the defense minister added. "We see Iranians operating in Yemen, in Iraq, in Lebanon and in Africa as well. Iran is perhaps the only country today which represents extremism not only through ideology but also actively and with a willingness to sacrifice its own citizens and its future for the sake of that radical ideology."
Lieberman reiterated the IDF spokesperson's comments that not a single Iranian missile hit Israeli territory.
Lieberman was asked by his interviewer, Major-General (res.) Amos Gilad, former head of the Defense Ministry's Political-Military Affairs Bureau, where was Israel headed from here. "The elected president may be (Hassan) Rouhani," the defense minister replied, "but supreme leader (Ali) Khamenei is the one calling the shots. He holds the reins. We saw him deliver a blatant speech against the United States and (President Donald) Trump and we saw an Israeli flag being burned inside the Iranian parliament. That's the direction Iran is headed in today, unfortunately."
'We have no conflict with the Iranian people'
Addressing the possibility of a civilian revolt in Iran, Lieberman said: "The Iranian currency is collapsing, as is the entire economy there. Their fanatic regime is willing to sacrifice the young generation's future for this ideology. Last week, the Telegram (instant messaging service) stirred a row in Iran after Tehran blocked the app. There was a huge commotion. I hope that we'll eventually see changes in the Middle East, as well as in Iran's relations with the world and with Israel. We have no conflict with the Iranian people."
Lieberman said Syrian President Bashar Assad wasn't happy with the Iranian presence either. "His abilities are very limited. He is fighting for his survival and keeps murdering his citizens."
Asked whether Israeli should change their daily routine following the recent events, the defense minister said: "I would like to warn against complacence and smugness. This isn't an absolute victory. It's all limited to a conflict between us and the Iranian Quds Force in Syria. Everyone wants to limit the conflict to this slot. I'm sure that not everyone in Iran agrees with the Quds Force's activity in Syria.
"We have no interest in occupying Syria, we are not intervening in the civil war, we are not meddling with our neighbors' affairs. We hope that one day they'll stop talking about destroying Israel. We have no interest in escalating the situation, but we must be focused. We have a persistent enemy which has been trying to target us for years. This is a new stage and I say we have to remain cautious and modest and avoid getting carried away. I hope we have managed to end the new chapter of dealing with the Iranian extremism for now."
The defense minister sees another threat, this time from Lebanon. "There are bad news, and we have to pay attention. In the elections that just ended, Hezbollah basically completed its takeover of Lebanon. They say it was democratically elected? Hitler was democratically elected too. The Lebanese army is turning into a branch of Hezbollah and will operate directly through (Hezbollah leader Hassan) Nasrallah. It's a new reality. Like with the Iranians in Syria, we don't want to return to Lebanon and don't want to build settlements there."
Lieberman added that "Israel is dealing with several conflicts simultaneously. With Hamas in the Gaza Strip, the friction isn't a reflection of Hamas' success but of its failure. Hamas has failed in managing the Gaza Strip, providing Gaza's residents with work and livelihood, which is why it's trying to divert the anger against us and shirk responsibility. They are talking about a grave humanitarian situation, but have invested in tunnels rather than in the health system, in electricity or water. The recent outburst of violence created by Hamas cost them over $20 million.
"There is a radical leadership here, like in Tehran, which is willing to sacrifice children for the sake of an extreme ideology to harm Israel. In the coming days they will try to provoke us and blame the violence on the US embassy move. We are prepared and will deal with the threats simultaneously. When we say we are prepared to solve the Gaza problem, we are telling them to give up their aspiration to destroy Israel and agree to demilitarization. That's something we won't compromise on."
As for the peace process in the region, the defense minister said: "In the modern world, to have a stable country with an ability to live in peace with its neighbors, we need a strong and successful middle class, like in Switzerland and Norway. There is no poverty there and no oligarchs, and 90 percent of the population belongs to a strong and successful middle class. In the Arab world, there is 90 percent poverty and lack of hope, and that's one of the problems. In a country like Yemen, where 60 percent are Sunni and the rest are Shiites, including Houthis, the majority of the population can't read or write. Clearly, it's difficult to reach stability with such a country."
Lieberman said he hopes Sunni Arab countries would "come out of the closet."
"Who supported (US President Donald) Trump's decision to withdraw from the nuclear agreement with Iran? Israel, Saudi Arabia and the Gulf states. So I think it's time for those moderate countries to 'come out of the closet' and start talking openly. Just like there's an axis of evil, it's time for the Middle East to also have an axis of moderate countries."
'A clear red line'
Transportation Minister Yisrael Katz, a member of the Political-Security Cabinet, told the Herzliya Conference on Thursday that the message of the Israeli strike in Syria was that Israel won't allow Iran to create a front against Israel.
"Tonight we painted the red line we have drawn in Syria in a clear red color with a clear message: Whoever crosses this line will be targeted. We won't allow Suleimani or Khamenei or anyone else fire missiles at the State of Israel and advance abilities in an attempt to threaten the Israeli front and home front. We won't allow Iran to built a front against the State of Israel in Syria. This is a clear message which was operationally implemented overnight in a really unusual and exceptional intelligence and IDF operation. This is a policy we have drawn as a red line and we stand behind it."
As for the possibility that the Iranians tried to bring long-range antiaircraft missiles into Syria, Minister Katz said: "I don't think we have reached that stage, but any missile ability aimed at disrupting the IDF's ability to act in the air or to threaten the Golan Heights, the Israeli home front, is an ability we will prevent and won't allow in Syria. This is a very clear line.
"We have to understand that there are three stages here. Iran has been in Syria for 20 years now to help Hezbollah and the Shiites. In the past seven years, it has reinforced its abilities to fight ISIS, it has brought Hezbollah in and it has done other things. As of last August, after ISIS was basically defeated in Syria, Iran started opening a front against the State of Israel, arming itself with offensive weapons, with defensive weapons, and bringing 80,000 to 100,000 Shiite militia soldiers from all over the Middle East to Syria to build an offensive model against Israel. That's something we won't allow."
Minister Katz was asked whether the Russians had given Israel the green light for the IDF's overnight operation in Syria. "The Russians don't really greenlight such operations," he replied. "There is no friction between us and the Russians. We don't harm Russian soldiers, Russian abilities, and they don't intervene and don't stop Israel from acting. That shouldn't be taken for granted. Russia isn't preventing the Iranian entrenchment, but it isn't stopping Israel from acting.
"Israel is determined and it has the intelligence abilities to locate the Iranian presence and the special operational abilities to act. It has basically created an Iranian dilemma: Either pull out of Syria or suffer the consequences and get dragged into a conflict. We won't invade Syria to get Iran out of there. In the end, Iran has to make the political decision, as a result of internal pressure from a public that is economically collapsing there because of the aggressive policy and the money being spent and the American sanctions on the way. At the end of the day, we have to break the Iranian desire to be here, to get Russia to put a bit more pressure to maintain stability and stabilize Syria, and to get the Americans to increase the pressure."
Asked whether the overnight strikes have ended of the current round between Israel and Iran in Syria, Katz replied: "The round hasn't ended yet. We're at the beginning of the road, but we made significant progress yesterday."
Kahlon: We'll do everything to kick Iranians out of Syria
كهالون، وزير المال الإسرائيلي: سنعمل كل شييء لطرد إيران من سوريا
Ynetnews/May 10/18

Finance minister sends direct message to Tehran following Wednesday night's escalation, saying Iranian entrenchment in Syria will be met with zero tolerance from Israel. 'Go home, you have nothing to do there,' he says.
If the Treasury is convinced that the defense establishment needs more money and resources—it will receive them, Finance Minister Moshe Kahlon told Ynet on Thursday morning following Wednesday night's escalation between Israel and Iran in Syria. "We see the security threats to the State of Israel eye to eye," he added.
Kahlon said he was amazed when he first heard about the amount of missiles Hezbollah has accumulated.
The Political-Security Cabinet will convene for a special discussion at the Kirya Base in Tel Aviv at 5:30 pm Thursday, following the Israeli attack on 50 Iranian targets overnight in response to 20 rockets fired at the Golan Heights from Syria.
Conveying a direct message to Tehran, Kahlon said: "Go home. You have nothing to do in Syria, especially when you target Israel. You want to build hotels or resorts? Fine. But if you come there as an army, to open another front, we already have Hezbollah, and now we'll have Syria, and we have Gaza, thank you very much. They have nothing to do in Syria, definitely not as an army and definitely not as an entrenchment, and we will pursue a zero tolerance policy."
Addressing the fortification budget, Kahlon said offered the following example: "Several months ago, the defense minister asked for an extra 150 million shekels to fortify public facilities in the north. We transferred the money. I said to the Defense Ministry and to the chief of staff, 'If you're missing any money, we'll add more. We'll sit down, hold discussions and look into it. If it's true, we'll give you the money."According to the finance minister, the Treasury allotted a sum "according to the Defense Ministry and army's demand. Let them work, let them do whatever it takes. They have our support. If they need more, we'll transfer more.
"Three years ago," Kahlon said, "I attended a cabinet meeting for the first time and we were presented with a report on Lebanon and on the amount of missiles Hezbollah has. I said to myself, 'Where were we this entire time? How did we let this happen? The prime minister and cabinet's decision not to allow an Iranian entrenchment in Syria is absolutely correct. Otherwise, we won't be able to explain to our children how the Iranians entrenched themselves there, closed our airspace and are covering half of the country with missiles."
As for the security tensions in the north, Kahlon said "it's no secret that the Iranians tried to retaliate the events of the past few weeks." The sense of euphoria following the overnight military operation is the real threat, he said. "That's exactly where the danger lies, in complacence and euphoria.
"The army was prepared, ready and alert ahead of this operation and we have an intelligence advantage there. It's no secret," he added. "On the other hand, the IDF hasn't exhausted even 50 percent of its abilities in this case. The IDF has other goals and abilities to thwart such attacks on Israel. Every activity that threatens Israel's security will be met with the harshest and most painful response."
Asked what would be the next step if Wednesday night's operation failed to deter the Iranians, Kahlon said: "'We'll do whatever we have to do to kick them out of there. "Any preventive measure that should be taken is being taken. At the moment, they are having a lot of trouble entrenching themselves because of our supremacy at this time, both from an intelligence perspective and from an operational perspective. We must implement it and send the Iranians back home. We have no business with them. This isn't their border. We share a border with Syria, and we even share a border with Gaza and with Lebanon. The Iranians, apart from threatening to destroy the State of Israel, aren't doing anything else."
Lapid: I warned EU an escalation was inevitable
Meanwhile Thursday, Yesh Atid leader Yair Lapid criticized European leaders following the US withdrawal from the nuclear agreement with Iran.
"They must stop burying their head in the sand and thinking that the Iranians will become Norwegian," he told the Herzliya Conference. "I warned the European Union that an escalation was inevitable and that they shouldn't try to appease Iran but rather act against it aggressively and without any hesitations."
Addressing Netanyahu's contribution to Trump's decision on Iran, Lapid said: "Netanyahu's associates led an attack against me. I opposed and I still oppose the nuclear agreement. I'm part of the Israeli effort to lead to a change or cancel the agreement. The agreement can't be left the way it is. There is no disagreement between me and the government over this issue. Cancelling the agreement is not the strategy; it's a tool in a much wider battle.
"The prime minister was wrong to address Congress behind President Obama's back. It created a serious rift with the Democratic Party which hasn't been amended since then. In fact, it has only gotten worse. There may have been a nuclear agreement we could have lived
"I am also saying that the prime minister was to expose sensitive information on television. It made the enemy wake up. If that intelligence information would have been presented in a closed forum, it would have had a much bigger impact. None of the relevant players changed their mind following Netanyahu's show."
Labor leader Avi Gabbay congratulated the IDF on its overnight operation in Syria. "The defense establishment's perception that the Iranians should be prevented from creating another front against us is correct and accurate and requires strikes like the ones we saw last night, and the same applies to the southern front.
"Our top commitment is to ensure the long-term existence of the State of Israel and its security. Unfortunately, the Netanyahu government is caught in a conception that the conflict can be managed with the Palestinians forever and that this conflict has nothing to do with the conflict with Iran. I think that's a mistake. We must create a political horizon to lower the intensity of the conflict and increase regional stability."
**Ron Ben-Yishai, Alexandra Lukash, Itamar Eichner and Inbar Tvizer contributed to this report.