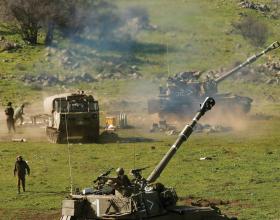 Report: Missiles aimed at in Syria at Israel targeted in base strike
يدعوت احرنوت: التقارير تفيد أنه تم تدمير القواعد الصاروخية الإيرانية في سوريا التي كانت موجهة صوب إسرائيل
Liad Osmo, Yoav Zitun and Daniel Salami/Ynetnews/May 09/18
Following IDF reports of 'irregular Iranian movements' in Syria, orders to open bomb shelters in Israel's north, loud explosions reported south of Damascus; senior Syrian army official says Israel carried out attack coordinated with US withdrawal from Iran nuclear deal; Syrian news agency: 'Missile defenses intercepted 2 Israeli missiles'; 9 militiamen reported killed.
Syria media outlets reported Tuesday evening explosions were heard around Damascus, in the Al-Kiswah region south of the Syrian capital. It was further reported the strike's target were missiles trained at Israel.
A senior Syrian army official was quoted by the Reuters news agency as saying that, "Israel targeted a Syrian army position south of Damascus."
The Syrian Observatory for Human Rights said on Wednesday the strike had killed at least 15 people, including eight Iranians. "The number increased to at least 15, including at least eight Iranians, killed by the missile strikes," the British-based Observatory reported. The possible attack came after the IDF instructed to open public bomb shelters in the Golan Heights amid Israeli reports of "irregular Iranian movements" in Syria and the ongoing fear of an Iranian strike at Israel in retaliation for the US withdrawal from the nuclear deal and the airstrike on the T-4 Airbase near Homs last month.
The base attacked in Damascus, Arab media reported, housed Iranian forces and was attacked by Israel in the past. Increased Israeli Air Force traffic was also mentioned in the skies over Israel's northern frontier in unconfirmed reports.
There was no immediate comment from Israel, which almost never confirms or denies airstrikes in Syria. Yedioth Ahronoth military correspondent Ron Ben-Yishai added that it could be gleaned from the Syrian report of an Israeli attack on a base used by Iranian militias that Iranians have been trying to launch missiles or rockets at Israel in the past few days. Israel has foiled these attempts, Ben-Yishai opined, both by using the media and—reportedly—by launching a preventative attack. It could also be surmised that the targets of Tuesday's attack were missile silos and rocket launchers the Iranians took out of hiding and intended to use—prompting Israel to attack once it discovered it.
A short time after the initial reports, sounds of explosion could be heard south of the capital, with the official Syrian news agency reporting that "Syrian air defenses have intercepted two Israeli missiles."
A Syrian general told Syrian state television, meanwhile, that the Israeli attack was coordinated with the American withdrawal from the nuclear deal, claiming that its purpose was to test Syria rather than destroy the base.
American army officials, for their part, told CNN of a growing fear that Iran was on the cusp of attacking Israel. When the attack takes place was unclear according to intelligence, the officials said, as was its target.
"If an attack takes place, it may not be immediately clear the perpetrator was Iran," one US official said. Regardless, the United States is closely monitoring to see whether Iran or its proxies carry out offensive actions in Syria, Lebanon—or even in Iran itself. The US-led coalition against the Islamic State in Syria said Tuesday no changes could be seen in the movement of Iranian troops in the past few days.
Earlier Tuesday, the IDF instructed the opening of shelters in Israel's northern region. Its statement said, "In light of a series of irregular identifications among Iranian forces in Syria, it was decided to make clearer defensive instructions in the Golan Heights region."At the same time, the US Embassy in Israel published a warning to US government officials, barring the visitation of any Americans to Israel's north without prior approval.
"Consider well whether to visit the Golan Heights until tensions in the region decrease," the statement said. "Increase alertness and look after those around you."
It was reported Monday in Arab media outlets that eight soldiers from the Syrian army's aerial defense force were killed in a mysterious explosion that took place Sunday on the Damascus-Suwayda road.
Engineers and soldiers from said battalion, tasked with operating the S-200 aerial defense system and responsible for downing an Israeli F-16 two months ago, were riding in a transport vehicle when the explosion occurred.
Syrian sources said eight men were killed, and were quick to finger Israel in blame. It was also reported some of the vehicle's passengers actually took part in the downing of the Israeli plane over the Golan.
The Israeli air force attacked a number of Syrian targets in retaliation for the downing.
The T-4 Airbase near Homs was bombed last month, in a strike that was widely attributed to Israel. The Syrian Observatory for Human Rights reported 14 people killed in the missile strike, including senior Iranian officials.
The Hezbollah-affiliated Lebanese Al Mayadeen network, for its part, reported that the missiles that hit the Homs airfield passed through Lebanese airspace, meaning they had come in from the Mediterranean.
*Reuters contributed to this story.


https://www.ynetnews.com/articles/0,7340,L-5255112,00.htm

l
Former Mossad Agent: No Military Solution To Israeli-Iran Conflict In Syria
Jerusalem Post/May 09/18
Israel and Iran are on a collision path. Iran wants to stay in Syria. We are determined not to allow them to stay there."
Jerusalem and Tehran will eventually need to cut a deal regarding the current Syria conflict as "there is no military solution," former Mossad agent Sima Shine said on Wednesday. Israel and Iran are "on a collision path… Iran wants to stay in Syria. We are determined not to allow them to stay there. If both sides adhere to their positions, there will be several rounds of conflict," Shine, who is also the former deputy director-general of the Strategic Affairs Ministry, said. "What will come at the end?" she asked and proposed that "as in all wars and conflicts… the solution is a political one. I am looking at what happens with the prime minister's [current] visit in Moscow. I hope it will be different than the six to seven prior visits in Moscow which did not lead to a solution to the problems. "The Americans are not here. So we don't have an American-mediated solution to the problem, but I hope the Russians will… be part of a solution," she said. Shine also expressed doubts about a solution including Russia because of its co-dependent relationship with Iran. "I believe we cannot make sure there are no Iranians staying in Syria," the former Mossad agent emphasized and suggested that a three-part understanding between Israel and Iran could cool the conflict. Such an understanding would first, clarify how far any Iranians who stay in Syria must be from the Israeli border; second, emphasize that there can be no missiles, drones or any similar level of Iranian weaponry brought or left in Syria; and third, specify how many Iranians and their proxies will stay in Syria in the long run – with a presumption that Iran will gradually reduce the numbers. Moving on to the Iran nuclear deal, Shine criticized US President Donald Trump's decision to leave it. "The decision yesterday to leave the nuclear agreement in the immediate term complicates the situation," she said, arguing that the move meant the US had squandered its main leverage for pressuring Tehran regarding its actions in Syria and its ballistic missile testing. "With the deal in place, Iran was more constrained. As time passes, as the secondary sanctions will bring Iran to a point in time where they are not benefiting anymore from the agreement… they will go back to… the nuclear project," she said. Shine was unclear about how far she thought Iran would move in the nuclear direction, saying she did not think it would immediately expel the IAEA inspectors and that she did not think Iran would "give a pretext to Israel to bomb it.
Shin Bet Head: Big Data Prevents But Could Escalate Threats To Israel
Jerusalem Post/May 09/18
Part of the challenge is learning to swim in an ocean of massive data – much of which is useless, but some of which could be key textual, visual or audio information to prevent terror attacks.
he Shin Bet (Israel Security Agency) is at the forefront globally in using big data to prevent terrorist attacks, but its use also has escalated the threats posed by the nation's enemies, the agency's director writes in an article obtained pre-publication by The Jerusalem Post. In an article to be published late on Wednesday in the Israel Intelligence Heritage and Commemoration Center journal, Nadav Argaman writes, "the world of big data and cyber confronts the intelligence community with more complex challenges than ever before."He says that "looking forward, our enemies are not stagnant, as the world of big data develops and broadens and technology is becoming more advanced every minute."This challenge has led to a new conceptual approach with the Shin Bet defining the areas of technology and information as being "critical resources in intelligence collection and in prevention of the enemy's [plans]," the spy chief says. Part of the challenge is learning to swim in a massive ocean of data – much of which is useless, but some of which could be textual, visual or audio information key to preventing terrorist attacks.
The keys to the Shin Bet's success in preventing terrorist attacks in this new age are its spiked investment in cyber-expert agents, in new technologies, in thoughtful coordination between its cyber and operational units and in better coordination even than ever before with other elements of Israeli intelligence, he writes. "These elements are also the keys which will preserve our achievements in the future and our continued ability to guarantee peace and security for the State of Israel," Argaman says. In the same journal, senior IDF intelligence officer Col. "Y." (his real name is classified) writes that the main challenge used to be to get access to key information about the enemy's priorities and strategy. Now, he writes, the chances are often high that an Israeli intelligence officer already possess data that could provide huge insights, greater than ever before, into these questions, somewhere in the information it has captured using its cyber abilities. But now he must figure out how to find it among the mountains of useless information when he cannot possibly review every item of intelligence that IDF collection has captured. In another article, senior Shin Bet official "M." writes that as Israeli enemies start to work with a variety of new kinds of groups and in new formats, intelligence forces must be more creative in tracking their activity.
Reportedly, Russia's massive cyberattack on the 2016 US election was carried out by cyber-militias directed by the state, but using a separate format. M. suggests that following Internet traffic trends, the establishment of new hubs, spikes and other tactics were key to tracing these new kinds of units.
Another issue is addressed by IDF intelligence officer Maj. "D.," who analyzes an ongoing debate within the intelligence community about what is the best way to anticipate broad social trends and views in a foreign state, especially the potential for regime change. Though the entire area of study is somewhat new, the more traditional approach to understanding these trends has been taking surveys. However, D. notes that just as political' surveys are criticized for mis-phrasing questions and other limitations, surveys used by intelligence agencies can have similar drawbacks.
D. presents a new school of thought that says surveys should be dropped in favor of trying to understand a foreign public's views and trends through their use of social media, as this could be a more direct and authentic presentation of their views. Finally, D. concludes that both methods should be used. He explains that many people lie on social media about simple issues such as age and location and also about broader issues, and adds that social media often overrepresent wealthy and younger sectors of society.
By using polling, which grabs a wider slice of society, and social media together, D. says intelligence agencies can get a better picture of the general public in foreign states.