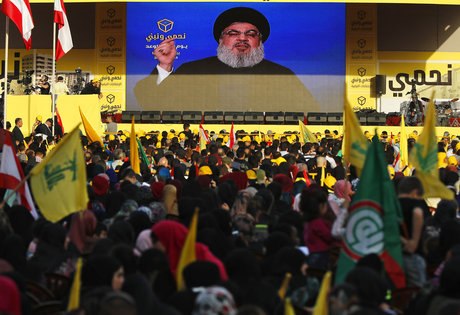 Hezbollah eyes gains after Lebanon vote
AFP News AFP News/06 May 2018
Hezbollah was poised to seal its dominance of Lebanon Monday with results for the decade's first general election expected to confirm the Iran-backed party as the main winner. The polls were also marked by a low turnout of 49.2 percent and the emergence of a civil society movement challenging Lebanon's oligarchs that could clinch a pair of seats in parliament. Lebanon's sectarian-based power-sharing politics mean no single alliance in the 128-seat parliament will enjoy a stable majority and analysts expect a fragile status quo to be preserved.
Interior Minister Nohad Machnouk announced the turnout figure at a news conference shortly after midnight and appeared to blame it on the new electoral law agreed last year. "This is a new law and voters were not familiar with it, nor were the heads of polling stations," he said. "Voting operations were very slow."
As provisional estimates trickled in, some candidates' supporters started celebrating in the streets after a polling operation marred only by a few violations but no major incident. Lawmakers had extended their own mandate three times since 2009, ostensibly over security concerns linked to neighbouring Syria's war and political divisions that led to long and crippling institutional crises. A higher turnout had been expected after the long electoral hiatus but the vote was the first to follow a law passed in 2017 and the pre-printed ballots used Sunday appeared to confuse some voters.
Possible kingmaker
Some voters also said that the sometimes absurd web of local electioneering alliances that saw some parties work together in one district and compete in others had put them off. With an hour to go before polling stations closed, several senior political leaders appealed for an eleventh-hour rush to the ballot boxes but stopped short of extending polling hours. Experts differ on who would benefit the most from a low turnout as alliance scenarios varied across the country's 15 districts, whose size and sectarian fabric are all different.
Hezbollah's own estimates a few hours after counting started sees the Shiite movement coming out on top everywhere it fielded candidates, although only official results expected early Monday will confirm the vote's outcome. With an increased number of seats in parliament, Hezbollah is expected with its allies to build a majority in its favour more easily on key issues such as the sensitive matter of the weapons it never laid down after the 1975-1990 civil war.
The leading voice calling for the Tehran-funded movement to give up an arsenal that has now grown to outgun the national army has been Prime Minister Saad Hariri.
Pollsters expect Hariri's Sunni-dominated Future Movement to be among the biggest losers of the election but say he could keep his job.
The new contours of parliament could leave the Christian party of President Michel Aoun, who has allied with Hezbollah and Future, in the position of kingmaker.
"The biggest swing vote will be President Aoun's group, which will move among the other blocs. Hezbollah will benefit from the lack of a broad coalition against it," political analyst Imad Salamey said.
'Made hope possible
Hezbollah, which was created in the 1980s to fight against Israel and currently battles in Syria alongside regime forces, is listed as a terror organisation by the United States. Members of the powerful Shiite group were suspected in the 2005 assassination of Hariri's father Rafiq, himself a former and charismatic prime minister. Lebanon has often been a scene where the rivalry between the region's two heavyweights has played out, but their political clients in this election seemed content to maintain the status quo. Despite the disappointing turnout among an electorate that included around 800,000 people who were too young to vote in the previous general polls, the new electoral law that allows smaller parties to run helped a civil society list break into parliament. Two women, television journalist Paula Yacoubian and author Joumana Haddad, looked poised to secure a seat from which they have pledged to challenge political dynasties they condemn as corrupt. Alexandre Salha, a 30-year volunteer with the "Kulluna Watani" civil society list, gathered with other supporters in a Beirut cafe after the vote and said the most important thing was to get a foot in the door. "We look forward to 2022 and we really believe that change has started. If we get one or two today, hopefully we'll have 10 in four years. We made hope possible," he said.
Hezbollah's Nasrallah Declares Victory in Lebanese Election: 'Mission Accomplished'
A/P/May 07/18
Lebanon held its first parliamentary election in nearly a decade this week with 583 candidates competing for a place in the 128-seat parliament, which is equally divided between Muslims and Christians.
The Iran-backed Hezbollah group and its political allies made significant gains in Sunday's parliamentary elections in Lebanon while the main Western-backed faction lost a third of its seats, according to preliminary results released Monday.
Meanwhile, Lebanese Prime Minister Saad Hariri has said that his Future Movement bloc lost a third of its seats in parliament in Sunday's elections.
The initial results, which were carried by Lebanese media and are more or less expected to match the official count, show that Hariri, a Sunni politician with close ties to Saudi Arabia, has lost at least five seats in Beirut, once considered his party's stronghold. The Iran-backed Shi'ite group and its political allies won more than half the seats in Lebanon's first parliamentary election in nine years. Hezbollah's powerful position in Lebanon reflects Iran's regional ascendancy in territory stretching through Iraq and Syria to Beirut. It is an enemy of neighboring Israel and classified as a terrorist group by the United States.
Hariri told reporters that his Future Movement won 21 seats in Sunday's vote, a drop of 11 from what they got in the 2009 elections. He blamed a new electoral law and a performance "that wasn't up to the standard."Hariri would still have the largest Sunni bloc in parliament, facilitating his return as prime minister to form the next government.
"My hand is extended to every Lebanese who participated in the elections to preserve stability and create jobs," Hariri said in a televised statement Monday. He said he would continue to work closely with President Michel Aoun, who is allied with the rival, Hezbollah-led bloc. Hezbollah and its allies appear to have gained seats, giving another boost to Iran's allies in Lebanon and neighboring Syria, where Tehran's influence has grown in recent years as it has provided crucial support to President Bashar Assad.
Mission accomplished'
Sayyed Hassan Nasrallah said it was a "political and moral victory" for the resistance, as it refers to itself and its regional allies. In a televised address, Nasrallah said "the parliamentary presence" created by Hezbollah and its allies would guarantee the protection of the "resistance". Nasrallah said that the "mission is accomplished" after weeks of campaigning. Nasrallah did not say how many seats his group and its allies won, but early results show that they have won at least 43 of the legislature's 128 seats, giving them the power to veto laws. Early results show that Hezbollah's bloc now has 13 members, one more than previously. The elections were the first since war broke out in Syria in 2011, sending over 1 million refugees to Lebanon, a small country with a population estimated at around 4.5 million. The war has divided Lebanon, pitting parties supporting Hezbollah's intervention in Syria against Saudi-aligned parties opposed to it. The divide reflects the region-wide rivalry between Saudi Arabia and Iran.
Iran welcomed the initial election results, with Foreign Ministry spokesman Bahram Ghasemi saying that his country will "support and cooperate" with any government that is elected by a majority. The unofficial results indicate Sunni voters are losing faith in Hariri's party amid a declining Saudi role in Lebanon, a deteriorating economy and general exasperation over the civil war in neighboring Syria, which has brought more than a million refugees to Lebanon. Official results are expected to be announced by Interior Minister Nouhad Machnouk later on Monday, although no time has been set. Hassan Nasrallah, the leader of Hezbollah, is scheduled to speak later in the day. The next Cabinet, like the outgoing one, will likely be a unity government that includes Hezbollah. Hezbollah and its allies appear set to easily take more than 43 seats in the 128-seat parliament, which would enable them to veto any laws the Shiite militant group opposes. Hezbollah itself appears to have added one seat, giving it a total of 13. Other pro-Syrian factions made their strongest showing since Damascus ended a nearly three-decade military presence in Lebanon in 2005.
Hezbollah is considered a terrorist organization by the United States, while the European Union differentiates between its political and armed wings. Hezbollah has sent thousands of fighters to Syria to shore up Assad's forces, and its alleged military involvement in Iraq and Yemen has led many Sunni Gulf countries to brand it a terrorist group.
The election was marked by a lower turnout than before, reflecting voter frustration over endemic corruption. Machnouk put national turnout at 49 percent, compared to 54 percent in 2009. In Beirut precincts, the turnout was between 32 percent and 42 percent . The drop came despite a reformulated electoral law designed to encourage voting through proportional representation. But many, including Machnouk, blamed the new, complex law for the tepid turnout, particularly in Beirut. The preliminary results show at least one candidate from a civil society list — journalist Paula Yaacoubian — won a seat in the capital, an area traditionally monopolized by established political parties. Some of Hariri's Sunni supporters saw him as being too soft on Hezbollah, and the billionaire businessman also faced criticism after sacking dozens of employees from his companies in Lebanon and Saudi Arabia, largely due to Saudi spending cuts.
The new election law also allowed Sunni rivals to contest the elections. "Clearly, the Future Movement no longer monopolizes the Sunni votes," said political analyst Ibrahim Bayram. He said that while Hariri is still likely to form the next government, he is now weaker and new conditions are likely to be imposed on him. The biggest winner so far is the right-wing Christian Lebanese Forces, which almost doubled its number of seats to 15. The group has vowed to combat the country's rampant corruption.