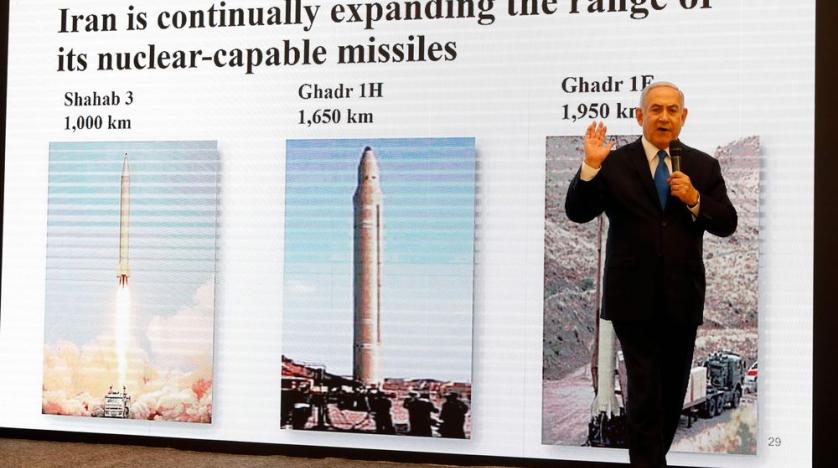 Iranian Defense Chief Warns Israel: Stop Your Dangerous Behavior, Response Will Surprise You
وزير الدفاع الإسرائيلي لإسرائيل: اوقفوا تصرفاتكم الخطيرة والرد سيفاجئكم
Haaretz/May 01, 2018
After Netanyahu's speech and what Iran calls 'provocations', top Iranian defense official warns Israel will 'regret it'
Iranian Defense Minister Amir Khatami responded Tuesday with a threat to Prime Minister Benjamin Netanyahu's speech on the country's nuclear program and what the Iranian official described as "Israel's provocative actions."
"This is our warning to the regime occupying Jerusalem and its supporters – stop your dangerous behavior. The Iranian response will be surprising and you will regret it," Khatami.
Iran's state-run media is mocked Netanyahu's latest allegations that Tehran once pursued nuclear weapons.
Iran's state-run IRNA news agency said Netanyahu is "famous for ridiculous shows." The semi-official Fars news agency, believed to be close to the Revolutionary Guard, dismissed Netanyahu's speech as a "propaganda show."
Iranian military sites in Syria were bombed from the air on Sunday, in an attack that was again attributed to Israel. Earlier last month, Russia and Syria blamed Israel for attacking an Iranian military compound in the T4 base near Homs. Iran vowed revenge.
Iran's foreign minister Javad Zarif tweeeted that Netanyahu was just exploiting the timing of the upcoiming May 12 Iran deal deadline to "rehash old allegations."
"Pres. Trump is jumping on a rehash of old allegations already dealt with by the IAEA to 'nix' the deal. How convenient. Coordinated timing of alleged intelligence revelations by the boy who cries wolf just days before May 12. But Trump's impetuousness to celebrate blew the cover," he tweeted.
Netanyahu on Tuesday invited Britain, France and the U.K. to see the materials Israel obtained and that the European countries will be sending delegations of experts to Israel over the weekend.
Analysis Israel Braces for Iranian Retaliation for Syria Strike – but War Isn't Inevitable




إسرائيل تستعد للرد الإيراني على خلفية هجماتها على الإيرانيين في سوريا – لكن الحرب الشاملة ليست حتمية


Amos Harel/ May 01/2018
There could be a lull before Lebanon's May 6 election and the Americans' May 12 decision on the Iranian nuclear deal, but revenge could come from Lebanon, Syria, Iran or further afield
About two and a half weeks after the bombing in which seven members of Iran's Revolutionary Guards were killed at the T4 base in Syria, Israel is apparently still waiting for the other shoe to drop. The Iranians' response, despite their frequent threats of revenge, is being postponed. It's also possible that as time passes, Tehran is becoming more aware of the possible complex consequences of any action. Still, the working assumption of Israeli defense officials remains that such a response is highly probable.
The Iranians appear to have many options. Revenge could come on the Syrian border, from the Lebanese border via Hezbollah, directly from Iran by the launch of long-range missiles, or against an Israeli target abroad. In past decades Iran and Hezbollah took part, separately and together, in two attacks in Argentina, a suicide attack in Bulgaria and attempts to strike at Israeli diplomats and tourists in countries including India, Thailand and Azerbaijan.
In any case, Lebanon seems all but out of bounds until the country's May 6 parliamentary elections, and amid Hezbollah's fear of being portrayed as an Iranian puppet. The firing of missiles from Iran would exacerbate the claims about Tehran's missile project a moment before a possible U.S. decision on May 12 to abandon the nuclear agreement. Also, a strike at a target far from the Middle East would require long preparation.
Despite the tension fueled by warnings from both sides, a war with Iran in Syria is far from inevitable at present. The clash of intentions is clear: Iran is establishing itself militarily in Syria and Israel has declared that it will prevent that by force.
On this issue, Prime Minister Benjamin Netanyahu is showing unusual resolve, which for a change is being supported by an equally belligerent top brass, which firmly rejects any Iranian presence. The fate of T4 far inside Syria, about 250 kilometers (155 miles) from the Israeli border, is the same as that of the Syrian Golan Heights; the fate of a Shi'ite militia base is the same as a deployment of Iranian long-range missiles, anti-aircraft systems and drones.
The question is whether this could eventually become nothing more than a bargaining position. In November, Israel tried in vain to influence the agreement for reducing friction in southern Syria that was crafted by the United States, Russia and Jordan. Israel demanded that the Shi'ite militias be sent eastward, to the Daraa-Damascus highway, about 60 kilometers from the border in the Golan. In return it received a faint promise – and even that's not being fully implemented – that the militias would not reach five to 20 kilometers from the border, depending on the front between the regime and the rebels.
Presumably there's an opening here for renewed negotiations over the original demand, after Israel made clear its determination regarding every location in Syria. One problem is getting the Americans to agree.
The United States, while helping the Kurdish fighters, still holds the Tanf enclave in eastern Syria, which constitutes a kind of bottleneck making it hard for Iran to establish control over the main highway from Tehran via Iraq to Damascus and Beirut. For Israel this could be an excellent bargaining chip in exchange for a demand to keep the Iranians far from the Golan. But the Americans are so focused on withdrawing the rest of their forces from Syria that it seems there's nobody to talk to at the moment.
Israeli defense officials boasted this week of a two-and-a-half-day visit by the head of U.S. Central Command. The visit, which was first reported on by the Kan public broadcaster, is important for coordinating positions with Washington on Iran and Syria, but it doesn't change the Americans' plan to leave the region, which is clear to all players involved.
That leaves us with Russia as the great power in charge of decisions on Syria. In fact, this week there were separate meetings with emissaries from Israel and Iran in Sochi. But Israel finds it hard to rely on Moscow as an unbiased intermediary when Russia and Iran are in the same camp supporting the regime of Syrian President Bashar Assad. Meanwhile, both Russia and Israel are exchanging indirect threats. Russia intends to provide S-300 missile systems to the Assad regime, and Israel is threatening to destroy them. When Israeli spokespeople are so inclined, they even threaten to endanger the Assad regime itself.
Iranian-Israeli War Looming on Horizon




الحرب الإيرانية -الإسرائيلية تحوف في الأفق


Tel Aviv, Washington, London/Asharq Al-Awsat/Tuesday, 1 May, 2018
Less than 24 hours after missiles struck an Iranian base in Aleppo and Hama in Syria, presumably by Tel Aviv, Israeli Prime Minister Benjamin Netanyahu revealed several documents that he says prove that Tehran is still pursuing its nuclear ambitions.Diplomatic sources said the latest developments signal the gathering of clouds of an imminent Israeli-Iranian war.
Russia has however been exerting efforts to contain such a possible confrontation and to prevent it from developing into a wide regional war.
On Sunday, Syrian regime forces said rockets had struck several military bases in the Hama and Aleppo countryside in what it said was new "aggression" by its enemies. A day later, Netanyahu unveiled "new and conclusive proof", compiled in thousands of documents and files, of a secret nuclear weapons program that Iran has been hiding for years from the international community.
Speaking in front of reporters from the Israeli military headquarters in Tel Aviv, the PM said: "Iran lied big time, when it signed the nuclear deal in 2015."
"Iran is brazenly lying when it says it never had a nuclear weapons program."
Meanwhile, US President Donald Trump, who has until May 12 to decide whether to walk away from the nuclear deal, wrote on his twitter account Monday that he did not rule out talks on a new nuclear deal with Tehran.
Separately, Hossein Naqavi Hosseini, the spokesperson for the Committee on National Security and Foreign Policy admitted the killing of a number of Revolutionary Guards members in the missile attack on Hama and Aleppo.
He refused however to confirm the exact number of casualties, saying that Syria should instead announce the number.
U.S. Officials: Israeli F-15s Struck Syrian Base Storing Iranian Anti-aircraft Missiles
رسميون أميركيين: إسرائيل هاجمت قواعد إيرانية في سوريا لتخزين الصواريخ
Haaretz/May 01/2018
Israel behind Sunday strike near Homs, three sources confirm in NBC News report; Israeli defense chief: Iran is trying to harm Israel, we'll respond
Israeli F-15 fighter jets struck a military base near Hama on Sunday after Iran had transferred a shipment of anti-aircraft missiles there, three U.S. officials told NBC News. The officials said Israel seems to be preparing for open warfare with Iran and is seeking U.S. support.
The Syrian army said early on Monday that "enemy" rockets struck military bases belonging to Syrian President Bashar Assad's regime. According to several outlets, the strikes targeted the 47th Brigade base in the southern Hama district, a military facility in northwestern Hama and a facility north of the Aleppo International Airport.
Citing unnamed American sources, the report said Iran has delivered wepons to the military base, including surface-to-air missiles, adding that Iran in the past two weeks has increased cargo flights to Syria with weapons shipments, which includes small arms and anti-aircraft missiles. The report says two U.S. officials believe that the shipments are intended for Iranian ground forces that would attack Israel.
An official from a regional alliance including Iran, Hezbollah and Syria, said Monday that the strikes killed 16 people, among them 11 Iranians, according to a New York Times report on Monday. The report said the bombardment also destroyed 200 missiles. The official spoke on the condition of anonymity, as he was permitted to speak to the press.
"On the list of the potentials for most likely live hostility around the world, the battle between Israel and Iran in Syria is at the top… right now," one senior U.S. official is quoted in the NBC News report as saying.
Meanwhile, Defense Minister Avigdor Lieberman said on Tuesday that Israel on Tuesday morning had four problems, one more than the day before: "Iran, Iran, Iran and hypocrisy."
The comment came one day after Prime Minister Benjamin Netanyahu revealed a cache of documents the Mossad stole from Iran detailing the country's nuclear program.
"This is the same Iran that cracks down on freedom of expression and on minorities. The same Iran that tried to develop nuclear weapons and entered the [nuclear] deal for economic benefits," Lieberman said.
"The same Iran is trying to hide its weapons while everyone ignores it. The state of Israel cannot ignore Iran's threats, Iran, whose senior officials promise to wipe out Israel," he said. "They are trying to harm us, and we'll have a response.
Iran's Defense Minister Amir Khatami threatened Israel on Tuesday, saying it should stop its "dangerous behavior" and vowing that the "Iranian response will be surprising and you will regret it." Khatami's remarks came Following Netanyahu's speech which Khatami described as Israeli "provocative actions," and two days after the strikes in Syria.
https://www.haaretz.com/israel-news/u-s-officials-israel-struck-iranian-anti-aircraft-missiles-in-syria-1.6049947?utm_campaign=newsletter-breaking-news&utm_medium=email&utm_source=smartfocus&utm_content=https%3A%2F%2Fwww.haaretz.com%2Fisrael-news%2Fu-s-officials-israel-struck-iranian-anti-aircraft-missiles-in-syria-1.6049947
Khamenei Refuses to Abandon Iran's Regional Roleالخامنئي يرفض التخلي عن دور إيراران الإقليمي 
London – Asharq Al-Awsat/Tuesday, 1 May, 2018/Iran's Supreme Leader Ali Khamenei closed the door to any international attempts to negotiate Tehran's regional role and ballistic missile program, accusing the US administration of waging an economic war against his country run by the US Treasury Department.Khamenei criticized the positions of US President Donald Trump without naming him, pointing out that years ago he addressed a letter to former US President Georges Bush, in which he said that the "hit-and-run era is over."
"They know that if they get into a military conflict with Iran, they will be struck multiple times over," he stated. Commenting on the international move aimed at containing Iran's regional threats, Khamenei said the Middle East wars were "the result of the American presence." "The United States, not Iran, should withdraw from West Asia," he stressed. According to Khamenei, Iran is engaging in an "economic and cultural" confrontation with the United States, claiming that the Treasury Department was leading the war against Iran, in a tacit reference to the possibility of imposing new international sanctions if Washington withdrew from the nuclear deal. Meanwhile, Deputy Foreign Minister Abbas Araghchi told state media that his country was "fully prepared" for any scenario in case Trump decided to withdraw from the nuclear deal. "Iran [is] fully prepared for any US scenario on the 2015 nuclear deal," he said. Iran's nuclear chief said that Tehran was technically ready to enrich uranium to a higher level than before, Reuters reported. According to the agency, head of Iran's Atomic Energy Organization, Ali Akbar Salehi, said Iran was able technically to enrich uranium to a higher level than it could before it signed the 2015 deal designed to curb its nuclear program.
France: Israel's Iran Intelligence Shows Need for Longer-Term Assurances on Nuclear Program
فرنس: المخاربات الإسرائيلية بما يخص إيران تظهر الحاجة إلى تطمينات طويلة الأمد بما يخص البرنامج الإيراني النووي
Asharq Al-Awsat/Tuesday, 1 May, 2018/France on Tuesday said that it was assessing the Israeli intelligence haul on Iran's nuclear activity, saying they could form the basis for long-term assurances. Israeli Prime Minister Benjamin Netanyahu unveiled on Monday what he said was evidence of a secret Iranian nuclear weapons program that could encourage the United States to pull out this month of a 2015 nuclear deal between Iran and world powers. "This information should be studied and evaluated in detail," foreign ministry spokeswoman Agnes von der Muhll said in a statement. "The new information presented by Israel could also confirm the need for longer-term assurances on the Iranian program, as the president has proposed." Since traveling to the United States last week, French leader Emmanuel Macron has spoken to leaders in Israel, Russia, Britain, Germany and Iran to propose a new negotiation on a wider agreement. That would tackle Iran's nuclear activities post-2025 when the existing deal begins to expire, as well as Iran's ballistic missile program and its regional influence. Intelligence experts and diplomats said Netanyahu's presentation, in a prime-time television presentation, did not seem to have a "smoking gun" showing a violation by Iran but it could strengthen the hand of advisers to US President Donald Trump who want to scrap the nuclear agreement. Von der Muhll said the information presented by Netanyahu confirmed in part the non-civilian nature of the program revealed by European powers in 2002, but that it merely proved the need to ensure the nuclear deal and UN inspections remained, given they were among the "most comprehensive and robust in the history of nuclear non-proliferation.""It is essential that the IAEA can continue to verify Iran's respect for JCPOA (nuclear deal) and the peaceful nature of its nuclear program," she said.
She added that a commission of the countries that agreed the deal – China, Britain, France, Germany, Russia and the United States and Iran – could review the Israeli information. The IAEA declined on Tuesday to directly address Netanyahu's accusations against Iran. "In line with standard IAEA practice, the IAEA evaluates all (nuclear) safeguards-relevant information available to it," said an agency spokesman. "However, it is not the practice of the IAEA to publicly discuss issues related to any such information." In a report issued in December 2015, shortly before the pact went into effect, the IAEA said "a range of activities relevant to the development of a nuclear explosive device were conducted in Iran prior to the end of 2003 as a coordinated effort". Those activities continued after 2003, though in a less coordinated manner, and there was no credible indication of any beyond 2009, the IAEA said at the time. The spokesman's statement on Tuesday reiterated the 2015 report's findings. Under its 2015 with world powers, Iran curbed its enrichment of uranium for nuclear fuel to allay concerns it could be put to developing bomb material, and Tehran won relief from most international sanctions in return. UN nuclear inspectors have repeatedly reported that Iran is heeding the terms of the deal.
Earlier, US Secretary of State Mike Pompeo said Netanyahu's information showed that Iran's leaders lied to their people about a nuclear weapons program known as "Project Amad". He declined, however, to say whether the documents provided evidence of a violation of the nuclear deal.
As he traveled back from Amman, Jordan, to Washington on Monday, Pompeo told reporters he and Netanyahu discussed the documents in Tel Aviv during a meeting on Sunday. Pompeo said that while the existence of the Amad nuclear project was known for some time, the new material discovered by the Israelis will help better understand the scope and scale of the program. He added that the documents make "very clear that at the very least the Iranians have continued to lie to their own people."Asked whether the information indicated a violation of the Iran nuclear agreement, Pompeo responded: "I'll leave that to lawyers. The president will ultimately have to make a determination about that too."Trump has threatened to pull the United States out of the international deal unless it is renegotiated by May 12. After Netanyahu spoke, Trump repeated his criticism of the deal, suggesting he backed the Israeli leader's remarks.
Netanyahu had informed Trump of the documents during a meeting in Washington on March 5, said a senior Israeli official. The White House later acknowledged receiving the information from Israel, saying it was examining it carefully. "This information provides new and compelling details about Iran's efforts to develop missile-deliverable nuclear weapons. These facts are consistent with what the United States has long known: Iran had a robust, clandestine nuclear weapons program that it has tried and failed to hide from the world and from its own people," the White House said in a statement.