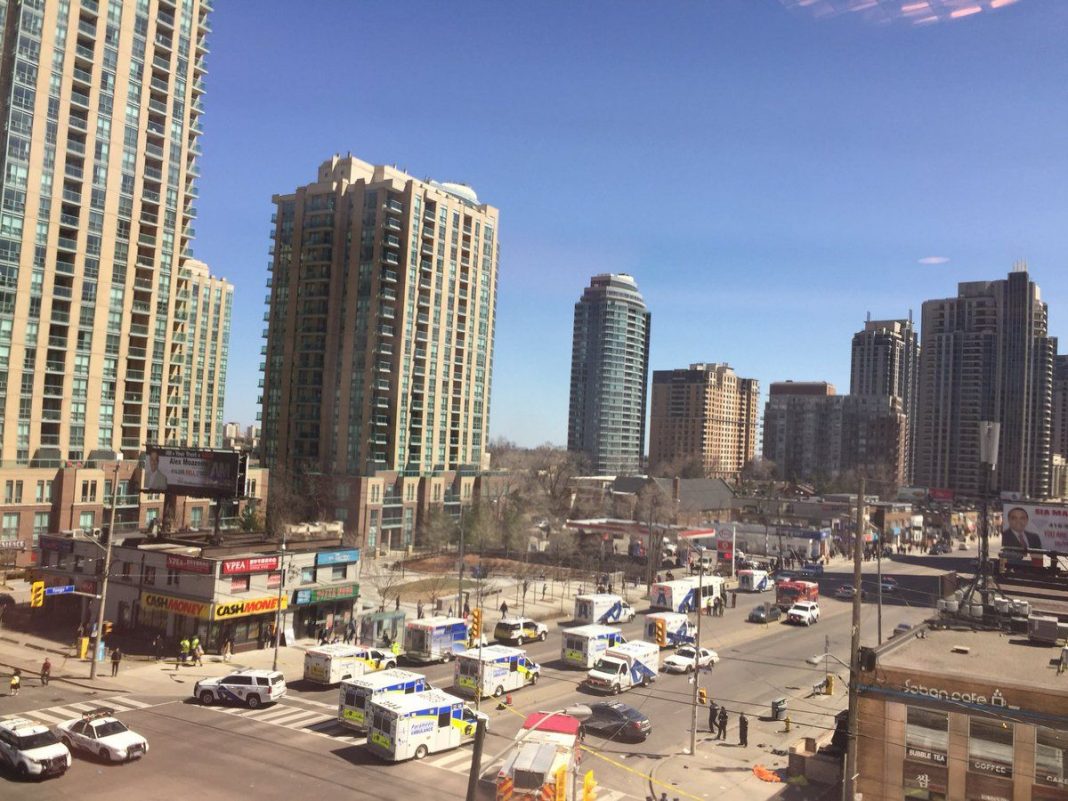 Toronto Police: Nine dead, 16 Injured after Van Plows in Pedestrians


شرطة تورونتو: 9 قتلى و 16 جريحا الحصيلة الجديدة لحادثة الدهس بالشاحنة


Jonathan Rumley/Yahoo Canada News/April 23, 2018
في حادث غامض ومميت لم تتوضح خلفياته حتى الآن فقد قام سائق (تم القبض عليه) فان/شاحنة، بصدم المارة في مدينة تورنتو بشارع مزدحم مما تسبب حسب التقارير الأولية إلى مقتل تسعة وجرح عشرين من المارة الذين صادف وجودهم في الشارح المستهدف. لم تؤكد الشرطة الكندية حتى الآن أن كان للحادث خلفيات ارهابية أم لا. رئيس وزراء كندا استنكر الحادث وتقدم بالتعازي من ذوي القتلى وتمنى الشفاء العاجل للجرحى.
9 dead, 16 injured after pedestrians struck by van during attack in Toronto
By Nick Westoll, Jessica Patton and David Shum/Global News/April 23/18
Toronto police say nine people have died and 16 are injured after multiple pedestrians were struck by a white van in Toronto Monday afternoon.
Police said the incident happened around 1:30 p.m. in the area of Yonge Street and Finch Avenue.
"Reports were that a white van mounted the curb, drove down the sidewalk at southbound Yonge, south of Finch, and struck eight to 10 people possibly, the numbers aren't confirmed yet," Toronto police spokesperson Gary Long told Global News.Global News observed multiple bodies covered with blankets. The extent of the injuries is unknown.
In a statement from Sunnybrook Health Sciences Centre, 10 patients were brought to the hospital. Two of the victims died at hospital, five are in critical condition, two are in serious condition and one is listed in fair condition. Officials said the hospital's emergency room has been locked down as a precaution.
A video posted on Twitter appears to show a standoff between the male suspect and police just before he was arrested.
The suspect appears to come out of the white van with an object in his hands pointed towards a police officer in the street. In the video, the officer could be heard shouting "get down on the ground now." The officer walked toward the man, who dropped the object and turned around with his hands in the air. It is unclear what the object was that the suspect was holding. He was subsequently taken into custody.Barry Mather, a delivery driver from Bolton, told Global News Radio 640 Toronto's Kelly Cutrara that he saw a "banged up" white van while he was making a delivery on Bogert Avenue, near Yonge and Sheppard.
"I was coming out of my van and I'd look and I'd hear this scraping and grinding noise and there's this white Ryder van coming towards me so I had to jump out of the way."
Nick Sanka told Global News he was studying in an area Starbucks when he saw a truck "just running through.""I get up, and by the time I come here, I saw someone with blood trailing…"
Sanka said the van was "definitely speeding" and that the driver appeared to be in control."He did seem to have control over what he was doing … so it wasn't some sort of impairment where he was swerving," he said.
"He just [drove] straight through – and he managed to make a perfect turn at that corner as well."Mayor John Tory said he has spoken with Chief Mark Saunders and other city officials and is on his way to the scene.
"There has been a very tragic incident at Yonge Street and Finch Avenue," Tory said. "My thoughts are with those affected by this incident and the frontline responders who are working to help those injured."
Prime Minister Justin Trudeau issued a brief statement Monday afternoon in response to the incident.
"We're just learning about the situation in Toronto now. Our hearts go out to anyone affected," he said.
"Obviously we're going to have more to learn and more to say in the coming hours."Federal Public Safety Minister Ralph Goodale commended the response by emergency crews.
"Grateful for the brave and professional response of @TorontoPolice and other first responders to the horrific attack at Yonge and Finch," he tweeted.
"Canadians are appalled at what happened. The victims and their families have our deepest condolences."
Global News confirmed Chief of Defence Staff Gen. Vance was briefed on the incident unfolding in Toronto. A strategic advisory alert has gone out to military commanders across the country.
remier Kathleen Wynne said in a post on Twitter that the province is also monitoring the situation and working with the City of Toronto and the federal government. "My thoughts are with everyone affected," she said. "Thank you to the first responders caring for victims and witnesses."
Meanwhile, a spokesperson for the rental company of the van driven by the suspect said the company is aware of the incident."We are saddened by this tragic event, and our deepest sympathies go out to those impacted," Claudia Panfil, vice president of corporate communications for Ryder System, Inc., told Global News in a statement.
"We take the safety and security related to the use of our entire fleet very seriously and we are cooperating fully with authorities."
The Toronto Transit Commission has shut down subway service between Sheppard and Finch stations due to the police investigation.
Officials said there will be no shuttle buses operating.
— With files from Kerri Breen, Amanda Connolly and Stewart Bell


https://globalnews.ca/news/4161785/pedestrians-hit-white-van-toronto

/
Senior members of the federal government have confirmed numerous casualties occurred Monday when a van rammed into a crowd of people on Toronto's Yonge Street.


Toronto Police Services Const. Jennifferjit Sidhu told Yahoo Canada police received a report of a collision at Yonge Street and Finch Avenue at 1:27 p.m. ET Sidhu confirmed the van has since been located and the driver is in custody. Police are not looking for any other suspects at this time.
Toronto is hosting a G7 meeting where Public Safety Minister Ralph Goodale and Foreign Affairs Minister Chrystia Freeland spoke to the media about the incident.
"There are obviously casualties in this incident. I cannot provide details at this stage," Goodale said, confirming that Toronto police is the lead investigative agency in this investigation.
"We cannot come to any firm conclusions at this stage," Goodale continued. When asked whether the incident was an act of terror, the public safety minister said "it would be inappropriate to speculate."
However, Goodale said he has no information that would cause him to make any changes to Canada's National Terrorism Threat Level.
Freeland called the incident a "very sad moment." Both leaders thanked first responders and law enforcement officials while expressing their sympathies to those affected.
Toronto Fire was the first to tell Yahoo Canada about "numerous" casualties. Stephan Powell, district chief at Toronto Fire, is urging people to stay away from the area near the North York Civic Centre as first responders are working at the scene.
Newstalk 1010, a Toronto-based radio station, is reporting that five people are dead following the incident. Yahoo Canada was not able to confirm this number with authorities.
CP24's managing editor and breaking news anchor Stephanie Smyth tweeted eight bodies were covered with orange tarps on Yonge Street, but there has been no official word.
Sidhu said it's too early in the investigation to say the number of people affected by the incident and an update will be coming from police later in the day.
On their official Twitter account, police said earlier that numerous pedestrians have been struck by a white van. It's possible that eight to 10 pedestrians were struck, officials said online.
"I think we are all unsettled and deeply disturbed," Ontario Premier Kathleen Wynne told reporters at Queen's Park in Toronto. "I think its impossible not to be. It's frightening."
The premier said now is the time "to rely on people who are trained."
Photos circulating on social media showed bodies on the ground. Toronto Paramedic Services would not confirm any casualties, but said they are treating patients at the scene. A spokeswoman for the service says "all resources" are being used and the public is being asked to stay away from the area.
The Toronto Transit Commission says there is no subway service on Line 1 between Sheppard and Finch stations due to a police investigation. Toronto police also confirmed there are road closures in the area.
The news of the incident was mentioned briefly during Question Period in the House of Commons in Ottawa.
"Our thoughts are with all thosed affected by the terrible incident at Yonge and Finch in Toronto," Prime Minister Justin Trudeau said on Twitter. "Thank you to the first responders working at the scene – we're monitoring the situation closely."


https://ca.news.yahoo.com/toronto-fire-says-numerous-casualties-vehicle-hits-crowd-182502742.html?guccounter=1
Van Runs Over Toronto Pedestrians, Up to 10 Hurt
Agence France Presse/April 23/18
A man drove a white rental van into a crowd of pedestrians in the center of Canada's biggest city Toronto on Monday, injuring as many as 10 people, police said. Canadian media reported at least four fatalities, but that was not yet confirmed by police. The vehicle fled the scene, but the driver was later arrested.
"Update: unknown of extent of injuries, possible 8 – 10 pedestrians struck," Toronto police wrote on Twitter. Police then said it was "too early to confirm the number of pedestrians struck or their injuries." Officers were called to the scene — on Yonge Street at the corner with Finch Avenue — at 1:27 pm (1727 GMT), police said, without specifying whether or not the incident was deliberate.
A white rental van with a dented front bumper was stopped on the sidewalk of a major intersection, surrounded by police vehicles.
"Our hearts go to anyone affected," Prime Minister Justin Trudeau told the House of Commons. "We are going to have more to learn and more to say in the coming hours," he said.
– 'Really fast' –
The incident occurred as Toronto was hosting a meeting of public security ministers from the G7 leading industrialized nations, and on the heels of a weekend gathering in the city for the foreign ministers from the same seven countries — the United States, Japan, Britain, Germany, France, Italy and Canada. Vehicle attacks have been carried out to deadly effect by extremists in a number of capitals and major cities, including London, Paris, Berlin, Stockholm, New York, Nice and Barcelona.
Toronto's police had not stated what they believe the driver's motives may have been in Monday's incident.
"He was going really fast," one witness, Alex Shaker, told CTV television.
"All I could see was just people one by one getting knocked out, knocked out, one by one," Shaker said. "There are so many people lying down on the streets."Canada has largely been spared the violence of Islamist extremists, although it has not been entirely immune.
Last October, a man stabbed a police officer in the western city of Edmonton before slamming his van into a group of pedestrians, injuring four people.
And in Quebec in October 2014, a Canadian man ran over two soldiers in a parking lot with his car, killing one of them. The driver was shot dead by police when he attacked them with a knife.
And in March 2016, a Canadian who claimed to have radical Islamist sympathies attacked two soldiers at a military recruitment center in Toronto.