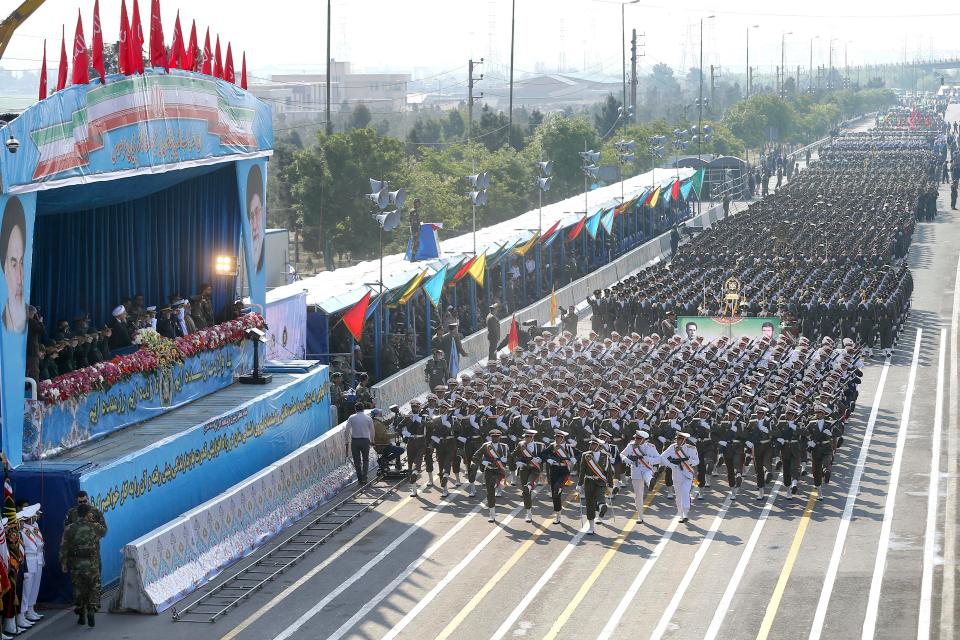 Iran vows 'expected and unexpected' moves if US exits deal
ايران تهدد بردود متوقعة وغير متوقعة في حال ألغى ترامب الإتفاق النووي معها
Ynetnews/Reuters/April 21/18
President Rouhani says Iran's Atomic Energy Organization is 'fully prepared' for American withdrawal from the nuclear deal, adds his government intends to prevent instability in the foreign exchange market as result of such move.
Iranian President Hassan Rouhani said on Saturday Iran's atomic agency was ready with "expected and unexpected" reactions if the United States pulls out of a multinational nuclear deal, as US President Donald Trump has threatened to do. "Our Atomic Energy Organization is fully prepared … for actions that they expect and actions they do not expect," Rouhani said without elaborating in a speech carried by state television, referring to a possible decision by Trump to leave the accord next month.
The deal reached between Iran, the United States and five other world powers put curbs on Iran's nuclear program in exchange for sanctions relief.
Trump has called the agreement one of the worst deals ever negotiated. In January he sent an ultimatum to Britain, France and Germany, saying they must agree to fix what the United States sees as the deal's flaws or he would refuse to extend the critical US sanctions relief that it entails.
US disarmament ambassador Robert Wood said on Thursday Washington had been having "intense" discussions with European allies ahead of the May 12 deadline, when US sanctions against Iran will resume unless Trump issues new waivers to suspend them.
Iran has said it will stick to the accord as long as the other parties respect it, but will "shred" the deal if Washington pulls out.
"Iran has several options if the United States leaves the nuclear deal. Tehran's reaction to America's withdrawal of the deal will be unpleasant," Iranian state TV quoted Iranian Foreign Minister Mohammad Javad Zarif as saying in New York.
Rouhani said his government intended to prevent instability in the foreign exchange market after a possible Washington exit from the nuclear accord when the central bank this month slapped controls on markets in an attempt to unify the Iranian rial. "This was a preventative blow against any American decision on May 12. They fully hoped to … cause chaos in the (foreign exchange) market. I promise to the people that the plot of the enemy has been thwarted, and whether or not the nuclear deal remains in effect, we will have no problem," Rouhani said.
On April 9, Iran moved to formally unify the country's official and open market exchange rates and banned money changing outside of banks, after its currency, the rial, plunged to an all-time low on concerns over a return of crippling sanctions.
Iran heats war rhetoric to cover up military buildup in Syria


إيران تصعد الحرب الكلامية للتغطية على زيادة وجودها العسكري في سوريا


Debka Files/April 21/18
Tehran is drumming up an oral war of attrition against Israel as a ruse to deter the IDF from striking the military hardware and personnel flowing into Syria.
Iran is pouring out violent threats in a rising crescendo against the Jewish state for two goals: One is to keep Israel off-balance and frozen in a high defense posture on its northern borders; and two, to con Israel into fearing that any IDF action would tip over into an all-out conflict. This stratagem allows Tehran to keep up a continuous stream of hardware and personnel into Syria and Lebanon free of hindrance by Israel's air force and missiles, and so anchor its military presence in both of Israel's northern neighbors.
Tension between Tehran and Jerusalem has been high since April 9, when an Israel air strike knocked out a Revolutionary Guards air force command center at the Syrian T-4 air base. But, apart from blistering threats of retaliation, Iran has none nothing. Israel celebrated its Independence Day under clear skies, although the following day, Friday, April 20, the Guards deputy commander Gen. Hossein Salami warned that Iran's hand "was on the trigger of its missiles" and Israel's air bases were "within reach." But Tehran sees an opportunity for taking a high tone against Israel following three developments:
The missile strike conducted by the US, the UK and France on Syrian chemical sites on April 14 was a letdown. And also, against expectations, the Western attack avoided Iranian targets, although Hizballah and other pro-Iranian forces played a central role in the Syrian conquest of East Ghouta and its use of chemical weapons. Saudi sources put out a report on Friday alleging that 15 Iranian officers were killed in the missile strike. There are no grounds for this report and it appears to have been designed for home consumption.
President Donald Trump repeatedly asserts that he is determined to pull American troops out of Syria as soon as possible. This gift is a boon for Tehran's goals. It will remove the main obstacle, a US military presence along the Syrian-Iraq border, that impedes the transfer of pro-Iranian Shiite militias from Iraq into Syria and the creation of a continuous land bridge from Tehran to the Mediterranean. In celebration of its effortless gain, reports appeared on Saturday that Iran, Iraq and Syria had undersigned a project for building a 1,700km highway from Tehran to Damascus via Baghdad that will be ready for traffic in two years. Moscow and Jerusalem are at loggerheads over Syria after a long period of amity. Tehran has taken note of President Vladimir Putin's recent warning to Israel that its air force operations in Syria would no longer have the freedom previously enjoyed. Putin has therefore removed another big obstacle from Tehran's goals. Iran will make every effort to deepen the rift. For all these reasons, Prime Minister Binyamin Netanyahu and Defense Minister Avigdor Lieberman cannot be satisfied with their protestations of the IDF's readiness and willingness to pick up the gauntlet against any threat. Tehran's belligerent rhetoric is a cover for an action which Israel's leaders have vowed to prevent. This can't be done by talk alone.