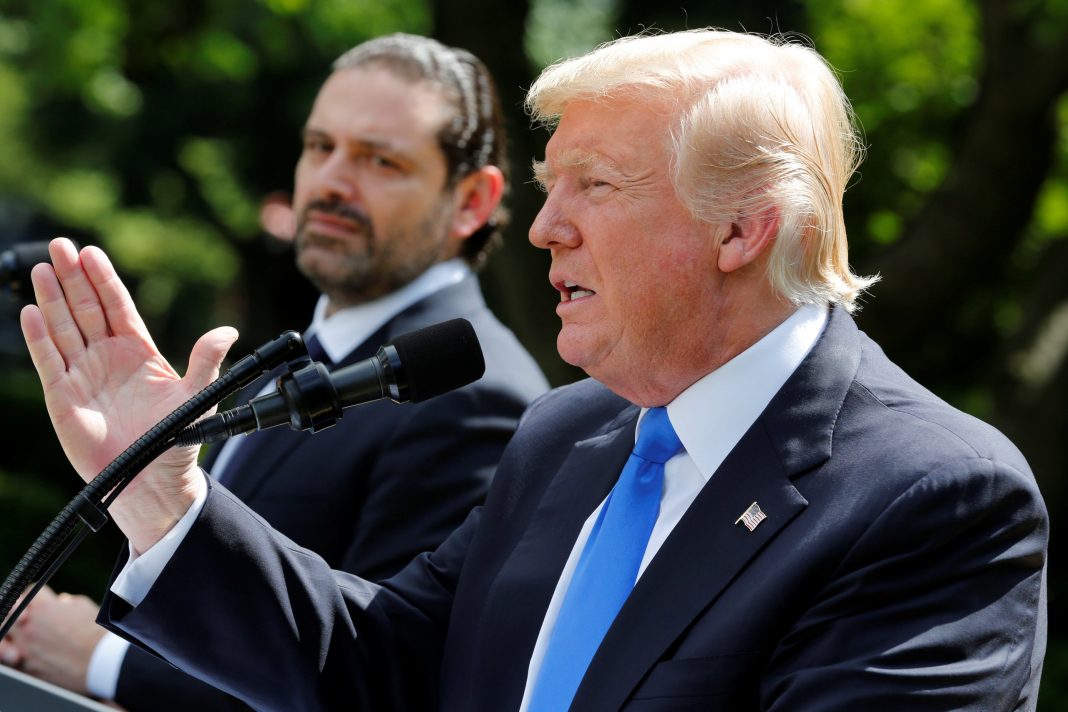 Lebanon PM Sa'ad Hariri resigns, fears for his life/Hariri blames Iran for meddling in Arab affairs
الحريري يستقيل خوفاً على حياته ويلوم إيران لتدخلها في الشؤون العربية

 Gulf News/November 05/2017
Beirut: Lebanese Prime Minister Sa'ad Hariri announced his resignation on Saturday, citing Iran's "grip" on the country and threats to his life.
 "I announce my resignation from the post of prime minister," he said in a speech broadcast from Saudi Arabia by the Al Arabiya news network.
 "I felt what was being covertly plotted to target my life," Hariri said.
 The two-time prime minister, whose father Rafik was assassinated when he held the same position in 2005, accused Iran and its powerful ally Hezbollah of seeking hegemony in the region.
 The 47-year-old Sunni politician's resignation comes less than a year after his government, to which Hezbollah's political wing belongs, was formed.
 "Iran has a grip on the fate of the region's countries… Hezbollah is Iran's arm not just in Lebanon but in other Arab countries too," he said.
 "In recent years, Hezbollah has used the power of its weapons to impose a fait accompli," he said, reading a speech from behind a desk.
 Hezbollah is a vital ally of Syrian President Bashar Al Assad in the war the Syrian regime is waging against the Islamic State group and armed opposition movements.
 What is behind Sa'ad Hariri's resignation?
 Hariri was target of assassination plot
 Resignation may lead to 'dangerous escalation'
 It enjoys broad support from Iran and is the only Lebanese party to have kept its weapons after the 1975-1990 civil war.
 Its arsenal has since grown exponentially and now outstrips that of the nation's own armed forces.
 It claims it is the only credible rampart against neighbouring Israel and its refusal to disarm is the main political crux in Lebanon.
 Hezbollah members have been accused over the 2005 assassination in a massive car bomb blast of Rafik Hariri, the dominant figure of Lebanon's post-war political landscape.
 He made his fortune in Saudi Arabia, where his son Saad was born. Riyadh is Iran's main regional rival and the two powers' tussle for influence has played out in ongoing conflicts in Iraq, Syria and Yemen.
 Timeline
 February 14, 2005
 Former Prime Minister Rafik Hariri is killed by a massive car bomb blast along with 22 others in Beirut.
 April 2005
 The attack sparks anti-Syrian rallies, piling pressure on Syria to end its 29-year military presence in Lebanon. The last Syrian soldiers leave Lebanon on April 26. Saad Hariri, a business graduate from Georgetown University in Washington, is propelled into the spotlight as his father's successor.
 June 2005
 An anti-Syrian alliance led by Saad Hariri wins control of parliament after elections. Hariri ally Fouad Siniora becomes prime minister.
 June 8, 2009
 Lebanon's anti-Syrian parliamentary majority declared winner of parliamentary election. Rafik Hariri's son, Saad Hariri, is named prime minister-designate on June 27.
 November 9, 2009
 Saad Hariri forms national unity government in which pro-Syrian militant group Hezbollah has two ministers in the 30-member Cabinet.
 January 12, 2011
 Hezbollah and its allies resign from Saad Hariri's Cabinet to protest the Tribunal's investigation, causing the Lebanese government to collapse.
 August 8, 2014
 Saad Hariri returns to Beirut after a three-year long security-imposed exile.
 November 3, 2016
 Saad Hariri asked to form a new government, after winning support of a majority of MPs, including influential Speaker Nabih Berri, who was vehemently opposed to his candidacy.
 December 18, 2016
 A new 30-member national unity Cabinet headed by Saad Hariri announced.
 December 28, 2016
 Parliament overwhelmingly approves a national unity Cabinet headed by Prime Minister Saad Hariri. The vote of confidence comes after MPs debate the new government's policy statement, outlining its priorities for the coming months.
 November 4, 2017
 Lebanese Prime Minister Saad Hariri announces his resignation, citing Iran's "grip" on the country and threats to his life.