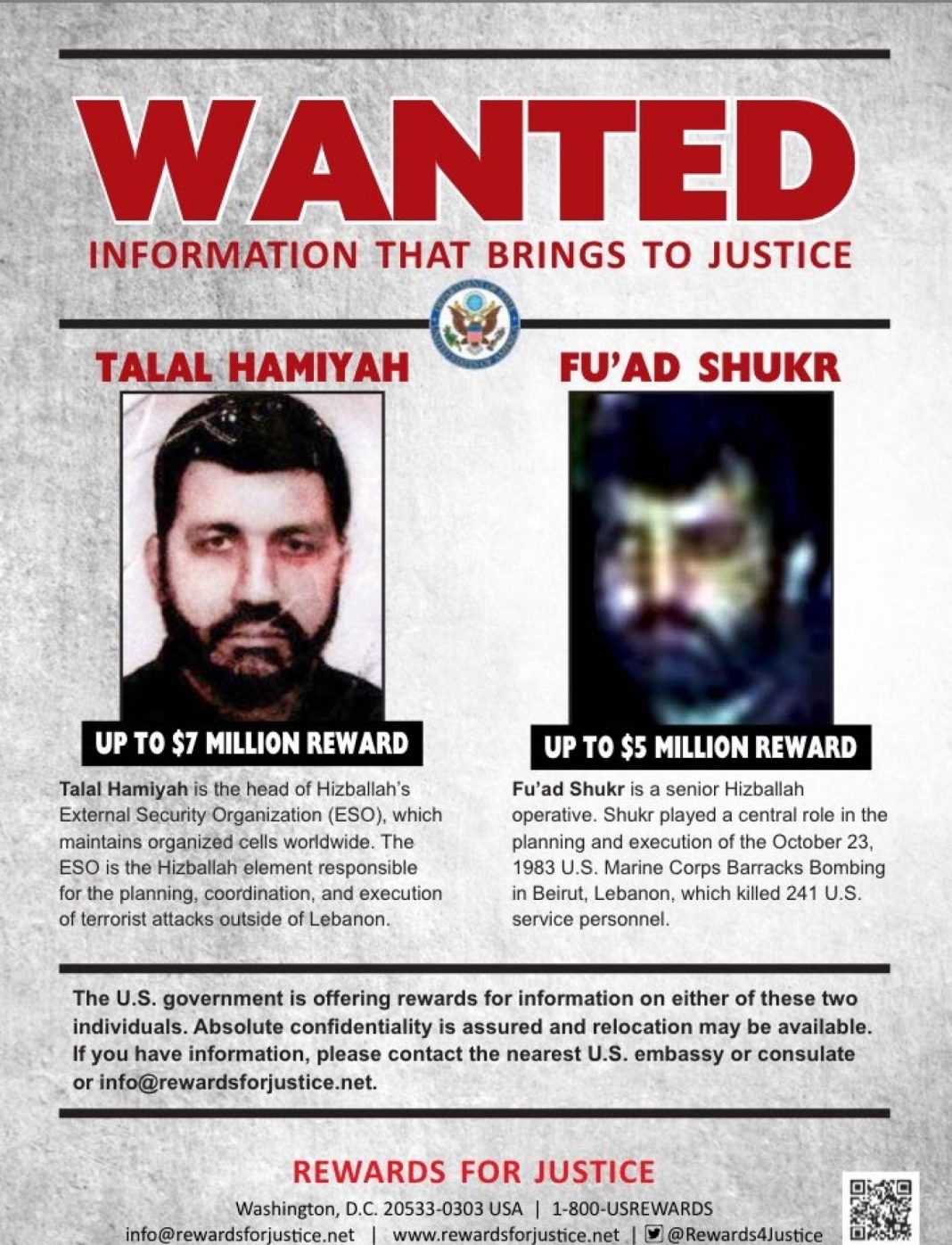 U.S. Believes Hezbollah Determined to Develop Attack Capability Inside U.S.
Haaretz and Reuters Oct 10/2017
U.S. counterterrorism director announces multi-million dollar reward for information leading to arrest of two Hezbollah officials. The United States believes that Hezbollah is determined to give itself an option to carry out attacks inside the United States, Nicholas J. Rasmussen, the director of the National Counterterrorism Center, said on Tuesday. "It is our assessment that Hezbollah is determined to give itself a potential homeland option as a critical component of its terrorism playbook," Rasmussen said during a briefing.
Rasmussen noted that before September 11, 2001 Hezbollah was responsible for more American deaths than any other foreign terrorism group. Rasmussen announced a multi-million dollar reward for tips leading to the arrest of two Hezbollah officials: Talal Hamiyah and Fu'ad Shukr.
Hamiyah is the head of coordinating and executing attacks outside of Lebanon, the State Department said. Hamiyah was Mughniyah's protege and served as his deputy in the "Jihad" network, a unit for special missions. Hamiyah, according to reports from Lebanese sources, went to Iraq quite often and was in contact with the leaders of the Shi'ite militias there, who are fighting the U.S. Army and the coalition forces. Shukr played a central role in the 1983 attack on the U.S. Marine corps barracks in Beirut, the State Department said. The Marine headquarters was destroyed at 6:22 A.M. when a truck rigged with around 10 tons of explosives and fuel exploded, killing 241 people. Minutes later, 58 French soldiers were killed in an explosion at their base in Ramlet al-Baida. According to the Washington Institute for Near East Policy, Shukr serves on Hezbollah's highest military body and played "a vital role" in Syria by helping Hezbollah fighters and forces loyal to the Assad regime fight insurgents. "With all the focus on ISIS and Al-Qaida, I can assure you that those of us who have focused on terrorism for the entire period since 9/11 have never taken our eye off of the Hezbollah threat," he said.
Rasmussen's announcement came just hours after Defense Minister Avigdor Lieberman warned that Israel's next war will be fought on two fronts, with Hezbollah along the northern border and Gaza in the south.
Speaking to a group of soldiers at the Israeli army's headquarters in Tel Aviv, Lieberman also accused the Lebanese army of being co-opted by Hezbollah. "The Lebanese army has become an integral part of the Hezbollah force and under its command. The Lebanese army has lost its independence and become an inseparable part of the Hezbollah force," Lieberman said.
Israel's Defense Minister: Lebanon's army 'an integral part' of Hezbollah
Jerusalem Post/October 10/17
"Whoever wants peace must prepare for war, and I hope that our enemies on the other side will think carefully about every step taken against the State of Israel," says Defense Minister Liberman.
Lebanon's army has become an integral part of Hezbollah's network, Israel's Defense Minister Avigdor Liberman stated on Tuesday, warning that the next war on Israel's northern border will not be confined to one front but will see conflict with both Syria and Leanon.
Addressing IDF soldiers during a celebratory event marking the festival of Sukkot at his sukka in the military headquarters in Tel Aviv, Liberman warned that preparation for the next war was of great importance, as it will likely include the Lebanese military along with Hezbollah.
"We're talking about Hezbollah and about the Lebanese military, and unfortunately this is the reality," Liberman said, adding that the "Lebanese army has lost its independence and has become an integral part of Hezbollah's network."
"Even if the next campaign develops, and it does not matter where it develops, in the north or the south, it will immediately become a battle on two fronts," the defense minister said.
"We are supposed to prepare for every possible scenario, and the new reality also prepares new challenges for us. If we once talked about the Lebanese sector, then there is no longer such a sector, there is a northern sector in every development," he continued.
Senior officials from Israel's defense establishment have repeatedly stated that while the chance of escalation on the border is low, the smallest incident or a miscalculation by either side would have the possibility to lead to conflict.
"Our entire effort is to prevent the next war, but in the new 'Middle East,' the assessments we previously made are simply irrelevant. The reality now is fragile, it can change from moment to moment, from today to tomorrow," he said.
"Whoever wants peace must prepare for war, and I hope that our enemies on the other side will think carefully about every step taken against the State of Israel, so that we will not have to demonstrate the full strength and capabilities of the IDF."
Israeli officials, including Liberman, have repeatedly voiced concerns about the smuggling of sophisticated weaponry to Hezbollah and the growing Iranian presence on its borders, stressing that both are red-lines for the Jewish State.
Both France and the United States have provided Lebanon with advanced weaponry, and this past summer, the Lebanese Armed Forces (LAF) received 50 armored vehicles, 40 artillery pieces and 50 grenade launchers from the United States as part of an aid package to bolster the Middle Eastern country against the threats posed by militant groups.
Saudi Arabia in March halted its military aid program to Beirut after Lebanese President Michel Aoun defended Hezbollah's arsenal in an interview with an Egyptian TV channel, calling it "an essential component" of the means to defend Lebanon.
"Hezbollah weapons are not contradictory to the state, but are an essential part in defending the country," Aoun told the Egyptian TV network CBC satellite channel. "As long as a part of the territory is occupied by Israel, and as long as the army is not powerful enough to fight Israel, we feel the need to maintain the weapons of the resistance to complement the army."
Israel and Hezbollah fought a deadly 33-day war in 2006, which came to an end under UN Security Council Resolution 1701, which called for the disarmament of Hezbollah, the withdrawal of the Israeli army from Lebanon, the deployment of the Lebanese army and an enlarged UN force in the south.
According to IDF assessments, Hezbollah has increased its military capabilities due to its fighting in Syria, and has spread its troops across the entire Middle East. In addition to a massive arsenal of rockets and missiles, Hezbollah is able to mobilize close to 30,000 fighters and has flouted its tunnel system, complete with ventilation, electricity and rocket launchers.
Some 200 villages in south Lebanon have also been turned into "military strongholds" from which Hezbollah militants are able to watch Israeli soldiers at any moment.
On Saturday, Lebanon's Al-Akhbar news website reported that security services had arrested three men who were allegedly gathering intelligence on Hezbollah and transferring it to Israel's spy agency, the Mossad.