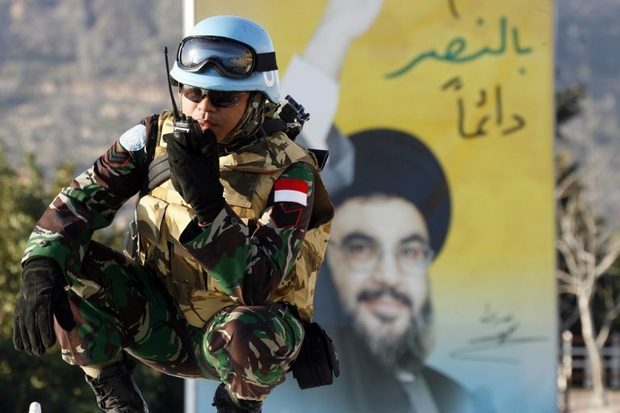 Hezbollah Leader Boasts: We Defended ISIS in Syria/حسن نصرالله يتباهى: نحن دافعنا عن داعش في سوريا

 Jerusalem Post /September 13/17/
Hassan Nasrallah, the leader of the Shi'ite, Lebanese terror organization Hezbollah, declared his group's triumph over Islamic State in Syria in a speech made on Tuesday. "We won the war in Syria and what's left are pockets of resistance," Nasrallah announced.
"The rebels and their supporters' project has failed and the enemy wants to conduct a negotiation only to be able to bring in some [minor] feats," he retorted. Nasrallah also revealed that at the very outset of the Syrian Civil War, which broke out seven years ago in 2001, he paid a visit to Iran where he had a meaningful meeting with Iranian Supreme Leader Ali Khamenei. According to Nasrallah, he explained to Khamenei in that meeting that Lebanon will refuse to back down in the fight against Islamic State, regardless of how the volatile situation in Syria might unfold.
"In those days everyone was convinced that the regime would collapse within two to three months. I made our vision and perception of the enemy clear to Khamenei, and I made it clear to him that if we don't fight in Damascus we would have to fight in Lebanon…" Nassrallah went on to describe the talk with Khamenei, saying that "the leader agreed and even added that not only that, [he also expects] the enemy [to get to] areas such as Kerman and Tehran in Iran. He said that in that front there are a lot of axes: The Iran-Lebanon-Syria axis, where the leader is Bashar Assad."
The terror group's leader said that one of his significant takeaways from the meeting with Ayatollah Khamenei was the Iranian leader's reassuring statement that "we must do everything in order to win, and we will win." By fighting alongside the Syrian regime they managed to prevent an infiltration of ISIS into Lebanon, Nasrallah asserted, and also said that "there are those who will never be pleased, regardless of what we may do." Nasrallah also reached out to bereaved families in Lebanon, and while speaking to them said that "ISIS and Jabaht a-Nusra have caused the toughest crisis we've had since 2010. This is way worse than the Second Lebanon War." The terror group's notorious leader didn't fail to point accusatory fingers in the direction of the Jewish state, its ally the US and Arab countries with whom Israel publicly does not maintain diplomatic ties, blaming all for conspiring against Hezbollah. "Since 2011, there has been an American-Israeli-Qatari-Saudi joint attempt to take out the resistance and terminate the [fight for] the Palestinian cause," he charged.Hezbollah official says Israel is closer than ever to its demise (credit: MEMRI).
Nasrallah also claimed that a year and a half into the Syrian Civil War, Saudi Arabia demanded that Syrian President Assad announce in a press conference that Syria was severing its ties with Hezbollah and Iran in order to solve the crisis in the country. "We warned our Iraqi brothers from the very beginning that if they don't fight ISIS… [the latter] will try to infiltrate into Iraq. Our assessment came true when the terror group took over two thirds of Iraq and got… as close as 40 km from Baghdad."On the same day that Nasrallah made the aforementioned remarks, Lebanese media reported that Hezbollah has raised its level of alertness on the northern border due to the large military drill the IDF is currently holding in the area. Lebanese paper Algomhuria cited an unnamed senior source who allegedly told the publication that UNIFIL forces are currently holding thorough patrols in the border area of southern Lebanon while carrying out discussions with Israel and Lebanon in order to maintain stability in the area and respect UN Resolution 1701 as well as uphold the cease-fire between Israel and Lebanon. The paper cited the same source as saying that an international attempt to influence the dialogue between the two sides is being made currently and indicates that both sides are not interested in an escalation.
Hezbollah Declares Victory in Syria: 'We Have Won the War'
Haaretz/Reuters/September 12/17
'What remains are scattered battles,' said Nasrallah, whose Iran-backed group has sent thousands of fighters to Syria to support Assad.
The Syrian government's powerful Lebanese ally Hezbollah has declared victory in the Syrian war, dismissing remaining fighting as "scattered battles", a pro-Hezbollah newspaper reported on Tuesday.
The comments by Hezbollah leader Sayyed Hassan Nasrallah mark one of the most confident assessments yet by the government side as it regains swathes of territory in eastern Syria in a rapid advance against Islamic State.  Referring to President Bashar Assad's opponents, Nasrallah said "the path of the other project has failed and wants to negotiate for some gains", the al-Akhbar newspaper cited him saying at a religious gathering. "We have won in the war (in Syria)…and what remains are scattered battles," said Nasrallah, whose Iran-backed group has sent thousands of fighters to Syria to support Assad.
 A source familiar with the contents of Nasrallah's speech confirmed al-Akhbar's report.
Backed by Russia and Iran, Assad has crushed numerous pockets of rebel-held territory in the western Syrian cities of Aleppo, Homs and Damascus over the last year, and he appears militarily unassailable in the six-year-long conflict. Ceasefires brokered by Russia, Turkey, Iran and the United States in remaining rebel-held areas of western Syria have freed up manpower on the government side, helping its advance east into the oil-rich province of Deir al-Zor.
The eastward march to Deir al-Zor, unthinkable two years ago when Assad seemed in danger, has underlined his ever more confident position and the dilemma facing Western governments that still want him to leave power in a negotiated transition. Government forces last week reached Deir al-Zor city, the provincial capital on the Euphrates River, breaking an Islamic State siege of a government-held enclave and a nearby air base.
In a televised speech last month, Assad said there were signs of victory in the war, but that the battle continued. U.S.-backed militia fighting under the banner of the Syrian Democratic Forces (SDF) have in recent days launched a separate offensive against Islamic State in Deir al-Zor province.  The SDF, which is dominated by the Kurdish YPG militia, is also waging a campaign to capture Raqqa city from Islamic State. It has avoided conflict with the Syrian government.