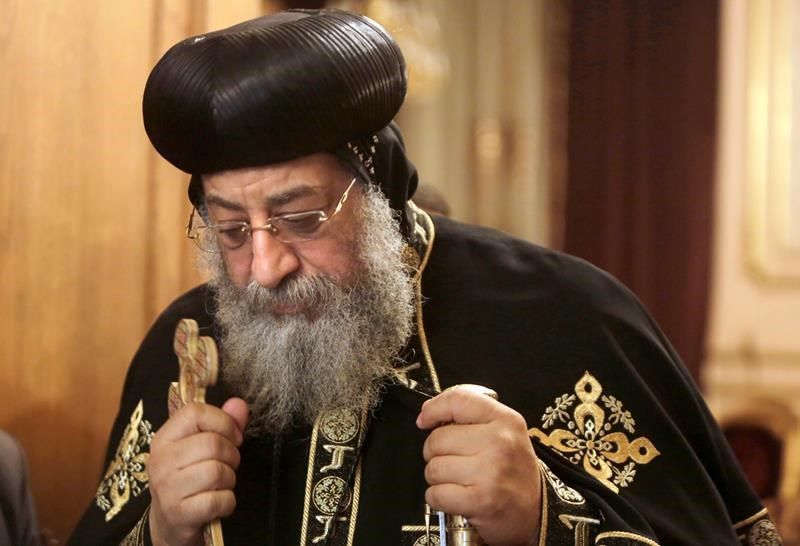 Once again Egyptian peaceful Christians are brutally targeted and murdered inside their Churches
Elias Bejjani/April 09/17
"I have told you this so that you might have peace in me. In the world you will have trouble, but take courage, I have conquered the world." (John 16-33)
The least ethical and human obligation that any peace loving person would do today, is to strongly condemn the barbaric, savage and fundamentalist assault that targeted two Coptic churches in Egypt, as the peaceful Egyptian Coptic Christian parishioners were observing and celebrating Palm Sunday, one of the most important days on the Christian Church calendar. The vicious attack killed more than 36 innocent parishioners and injured at least sixty others, many of them are in critical condition.The coward assailants attacked the Christian civil and peaceful parishioners while they were worshiping and praying. This vicious assault reaches the realm of a series of similar previous and ongoing fanatic attacks against Egyptian Christians and their churches in several Egyptian provinces and territories.
It is worth mentioning that the Egyptian Christian human rights' status is extremely traumatizing and worrisome as well as their physical safety.
The same humiliating and persecutory status is inflicted on all minorities in the majority of the Middle East countries in general and in particular in Egypt, Iraq, Sudan, Algeria, Libya.
The persecution against Christians and other minorities in these counties is an official and formal practice legitimized by biased laws and regulations.
At the same time, this phenomenon of anti-human rights practices is widely encouraged, nurtured and cultivated through education of hatred, fundamentalism, rejection of the other and ignorance.
What is unfortunate, pitiful and sad is that the governments of many middle east countries adopt such practices while the free world keeps a blind eye or in the best scenario limits its condemnation to mere rhetoric levels.
The horrible and barbaric crime of today is strongly denounced.  The Free World has an obligation to protect Egypt's Christians & the Middle East minorities.  We, call on the free world countries, the United Nations, the Vatican and on all the Human Rights organizations to be loud in their public stances of condemnation and to develop a world wide plan and strategy to protect the Middle East Christians as well as all other minorities.
Our deepest sympathies are extended to the families and friends of those killed today, and all wishes for a speedy recovery to all the injured. May the souls of all those innocent victims that were killed today rest in peace.
Background
43 Dead, 118 Hurt as IS Blasts Hit Two Egypt Churches
Naharnet/Agence France Presse/April 09/17/The Islamic State group claimed responsibility for bombing two Egyptian churches as worshipers gathered to mark Palm Sunday, killing at least 43 people in the deadliest attacks on the Coptic Christian minority in recent memory. The attacks followed a Cairo church bombing in December and came weeks before a planned visit by Catholic Pope Francis intended to show support for Egypt's Christian minority. The first bombing at the Mar Girgis church in Tanta city north of Cairo killed 27 people, the health ministry said. "I just felt fire grabbing my face. I pushed my brother who was sitting next to me and then I heard people saying: 'explosion'," a wounded witness in hospital told state television.
Emergency services had scrambled to the scene when another blast rocked Saint Mark's church in Alexandria where Coptic Pope Tawadros II had been leading a Palm Sunday service. Sixteen people including three police officers were killed in that attack, which the interior ministry said was caused by a suicide bomber who blew himself up when prevented from entering the church. The ministry said Tawadros was unharmed, and a church official said he left before the explosion. The private CBC Extra channel aired footage of the Alexandria blast, with CCTV showing what appeared to be the church entrance engulfed in a ball of flame and flying concrete moments after a security guard turned away a man.
Eyewitnesses said a police officer detected the bomber before he blew himself up.
At least 78 people were wounded in Tanta and 40 in Alexandria, the health ministry said.
Officials denounced the violence as an attempt to sow divisions in Egypt, and Francis sent his "deep condolences" to Tawadros. IS claimed its "squads" carried out both attacks, in a statement by its self-styled Amaq news agency published on social media.
After the bombings, President Abdel Fattah al-Sisi ordered military deployments to guard "vital and important infrastructure", his office said.
State television reported that the interior minister sacked the provincial head of security and replaced him after the attack. There were bloodstains on the floor of the church in Tanta, next to shredded wooden benches. On March 29, the Mar Girgis church's Facebook page said a "suspicious" device had been found outside the building that security services removed. "I heard the blast and came running. I found people torn up… some people, only half of their bodies remained," said Nabil Nader, who lives in front of the Tanta church. Worshipers had been celebrating Palm Sunday, one of the holiest days in the Christian calendar, marking Jesus' triumphant entrance to Jerusalem.
Pope prays for victims
Francis, who is due to visit Cairo on April 28-29, offered prayers for the victims.
"Let us pray for the victims of the attack unfortunately carried out today," he said in an Angelus prayer. "May the Lord convert the heart of those who sow terror, violence and death and also the heart of those who make weapons and trade in them."
Copts, who make up about one tenth of Egypt's population of more than 92 million and who celebrate Easter next weekend, have been targeted by several attacks in recent months. Jihadists and Islamists accuse Copts of supporting the military overthrow of Islamist president Mohamed Morsi in 2013, which ushered in a deadly crackdown on his supporters. In December, a suicide bombing claimed by IS killed 29 worshipers in a Cairo church adjacent to the papal seat.
The group later released a video threatening Egypt's Christians with more attacks.
A spate of jihadist-linked attacks in Egypt's restive Sinai Peninsula, including the murder of a Copt in the city of El Arish whose house was also burned, led some Coptic families to flee. About 250 Christians took refuge in the Suez Canal city of Ismailiya after IS released a video in February calling for attacks on the minority.
U.S. President Donald Trump led international condemnation of Sunday's attacks.
"So sad to hear of the terrorist attack in Egypt. U.S. strongly condemns. I have great confidence that President Al Sisi will handle situation properly," he tweeted.
– String of attacks –
Prime Minister Sherif Ismail condemned the attack, stressing Egypt's determination to "eliminate terrorism."The Cairo-based al-Azhar, an influential Sunni Muslim authority, said it aimed to "destabilize security and… the unity of Egyptians."Egypt's Copts have endured successive attacks since Morsi's ouster in July 2013. More than 40 churches were attacked nationwide in the two weeks after the deadly dispersal by security forces of two pro-Morsi protest camps in Cairo on August 14 that year, Human Rights Watch said. Sisi, who as then army chief helped remove Morsi, has defended his security forces and accused jihadists of attacking Copts in order to divide the country. In October 2011, almost 30 people — mostly Coptic Christians — were killed after the army charged at a protest outside the state television building in Cairo to denounce the torching of a church in southern Egypt. A few months earlier, the unclaimed New Year's Day bombing of a Coptic church killed more than 20 people in second city Alexandria.
Church bombings in Egypt kill 37, wound dozens
Associated Press/April 09/17/TANTA, Egypt — Bombs tore through two Egyptian churches in different cities as worshippers were marking Palm Sunday, killing at least 37 people and wounding around 100 in an assault claimed by the Islamic State group.
In the first, attack, a bomb exploded at Saint George church in the Nile Delta city of Tanta, killing at least 26 people and wounding over 70, officials said.
Later, an explosion hit Saint Mark's Cathedral in the coastal city of Alexandria, the historic seat of Christendom in Egypt, killing at least 11 people and wounding 35 just after Pope Tawadros II finished services. His aides later told local media that he had escaped unharmed.
IS claimed the attacks via its Aamaq news agency, after having recently warned that it would step up attacks on Egypt's Christians.
The blasts came at the start of Holy Week leading up to Easter, and just weeks before Pope Francis is due to visit the Arab world's most populous country.
CBC TV showed footage from inside the church in Tanta, where a large number of people gathered around what appeared to be lifeless, bloody bodies covered with papers. Regional Deputy Health Minister Mohammed Sharshar confirmed the toll.
Across the street, neighbour Susan Mikhail, whose apartment has a clear balcony view of the church and its front yard, said the explosion violently shook her building midmorning, at a time when the church was packed.
"Deacons were the first to run out of the church. Many of them had blood on their white robes," she told The Associated Press. Later, the more seriously wounded started to come out, carried in the arms of survivors and ferried to hospitals in private cars, she said.
Pope Francis decried the bombings, expressing "deep condolences to my brother, Pope Tawadros II, the Coptic church and all of the dear Egyptian nation." Word of the attacks came as Francis himself was marking Palm Sunday in St. Peter's Square.
Grand Sheikh Ahmed el-Tayeb, head of Egypt's Al-Azhar — the leading centre of learning in Sunni Islam — likewise condemned the attacks, calling them a "despicable terrorist bombing that targeted the lives of innocents."
Both Israel and the Islamic Hamas movement ruling neighbouring Gaza also condemned the bombings.
The bombings add to fears that Islamic extremists who have long been battling security forces in the Sinai Peninsula are shifting their focus to civilians.
An Islamic State affiliate claimed a suicide bombing at a Cairo church in December that killed around 30 people, mostly women, as well as a string of killings in the restive northern Sinai that caused hundreds of Christians to flee to safer areas of the country.
The group recently released a video vowing to step up attacks against Christians, who it describes as "infidels" empowering the West against Muslims.
Egypt has struggled to combat a wave of Islamic militancy since the 2013 military overthrow of an elected Islamist president.
The Sinai-based IS affiliate has mainly attacked police and soldiers, but has also claimed bombings that killed civilians, including the downing of a Russian passenger plane over the Sinai in 2015, which killed all 224 people on board and devastated Egypt's tourism industry.
Egypt's Copts are one of the oldest Christian communities in the Middle East. They have long complained of discrimination and that the government does not do enough to protect them.
Egyptian media had previously reported that the church in Tanta had been targeted in the past, with a bomb defused there in late March.
The Copts were largely supportive of the military overthrow of Islamist President Mohammed Morsi, and incurred the wrath of many Islamists, who attacked churches and other Christian institutions after his ouster.
**Associated Press writers Maamoun Youssef and Maggie Michael in Cairo and Bassem Mroue in Beirut contributed to this report.
Hamza Hendawi, The Associated Press
Who are Egypt's Coptic Christians?
Naharnet/Agence France Presse/April 09/17/
Egypt's Copts, targets of an apparent church bombing north of Cairo on Sunday, are the Middle East's largest Christian minority and one of the oldest.
Making up about 10 percent of Egypt's population of 90 million, the Coptic Orthodox form the largest Christian denomination in the Muslim-majority country.
Here is a recap of their history, their status today and recent attacks against them.
'Dawn of Christianity'
The Copts trace their history to the dawn of Christianity, when Egypt was integrated into the Roman and later the Byzantine empire. The word "Copt" comes from the same root as the word for "Egyptian" in ancient Greek. The community's decline started with the Arab invasions of the 7th century and the progressive Islamization of the country, which today is largely Sunni Muslim. Several churches and monasteries in Egypt are built on sites Copts believe were visited by the Holy Family. The Bible says Joseph, Mary and Jesus sought refuge in Egypt after Christ's birth to escape a massacre of newborns ordered by King Harod.
Copts today
Copts, represented in all social classes, are present across the whole country, with the strongest concentration in central and southern Egypt.Most adhere to the Coptic Orthodox Church of Alexandria, headed since 2012 by Pope Tawadros II. A minority is divided between Coptic Catholics and various Coptic Protestant branches.
Tawadros, who succeeded pope Shenuda III, was chosen by a blindfolded altar boy picking his name from a chalice, according to tradition. The Catholic Copts, who form part of the Church's eastern rite, have been headed by patriarch Ibrahim Isaac Sidrak since 2013. The Vatican says some 165,000 Catholic Copts lived in Egypt in 2010.
Poorly represented in government, Copts complain that they are sidelined from many posts in the justice system, universities and the police.
Authorities often refuse to issue building permits for churches, arguing it would disturb the peace with their Muslim neighbors.
Deadly violence
Egypt's Copts have been the target of several deadly attacks since the 2011 uprising that toppled longtime president Hosni Mubarak. On January 1, 2011, more than 20 people died in the unclaimed bombing of a Coptic church in Egypt's second city, Alexandria.
In March the same year, 13 people were killed in clashes between Muslims and Copts in Cairo's working class neighborhood of Moqattam, where around 1,000 Christians had gathered to protest over the torching of a church.
In May 2011, clashes between Muslims and Copts left 15 dead in the Cairo neighborhood of Imbaba, where two churches were attacked.
That October, almost 30 people — mostly Coptic Christians — were killed after the army charged at a protest in Cairo to denounce the torching of a church in southern Egypt.
The 2013 ouster of Mubarak's elected Islamist successor Mohamed Morsi after just one year in power sparked further attacks against Christians.
Pro-Morsi Islamists accused the Christian community of supporting his overthrow.
They pointed to the appearance of Tawadros alongside President Abdel Fattah al-Sisi on television in July 2013 as the then army chief, also surrounded by Muslim and opposition figures, announced Morsi's removal.
The next month, security forces used deadly force to break up two pro-Morsi protest camps in Cairo. The following two weeks saw attacks against more than 40 churches across the country, according to Human Rights Watch.
Amnesty International later said more than 200 Christian-owned properties were attacked and 43 churches seriously damaged, with at least four people killed.
In December last year, a suicide bombing claimed by the Islamic State group killed 29 worshipers during a Sunday mass in Cairo. A spate of deadly jihadist-linked attacks in Egypt's restive Sinai Peninsula in February prompted some Coptic families to flee their homes. About 250 Christians took refuge in the Suez Canal city of Ismailiya after IS released a video calling for attacks against the minority. Pope Francis is set to visit Cairo late this month for talks with the grand imam of the capital's famed Al-Azhar mosque and to show solidarity with Coptic Christians.