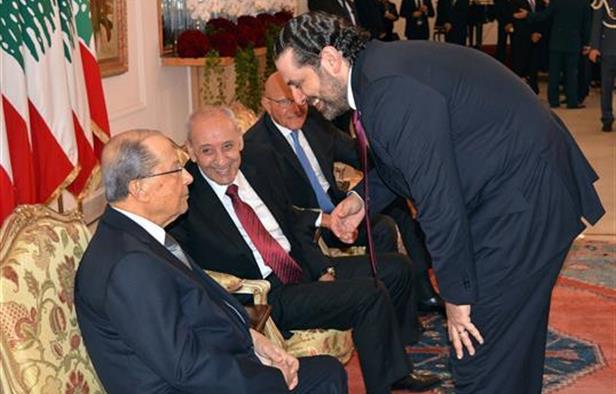 New election law vital for true representation, Aoun warns
Hussein Dakroub/The Daily Star/February 01/17
The Daily StarBEIRUT: With no signs yet of any breakthrough in intensive efforts to agree on an electoral law, President Michel Aoun said Tuesday a new voting system to replace the disputed 1960 majoritarian formula is crucial to achieving true representation in Parliament. He also reaffirmed his support for a vote law based on proportional representation, saying such a law was essential for the country's political stability. "An agreement on an electoral law is currently our main preoccupation because without it, we will not be able to change the image of representation which we want," Aoun said during meetings with visitors at Baabda Palace.
"This change cannot be achieved without proportional representation because if we are seeking to attain political stability, all the Lebanese must be represented in Parliament, both the minority and majority regardless of the sects and their sizes," he said, according to a statement released by the president's media office.
"My dream is to achieve stability, security and prosperity for our country. I am reassured about Lebanon as long as I am steering the ship," Aoun added.
Aoun's remarks come as rival factions remain at opposite poles over what voting system to adopt to govern the upcoming parliamentary elections slated for May 21. They also came on the same day the Free Patriotic Movement's parliamentary Change and Reform bloc said it was searching for a new electoral law to replace the 1960 system.
Foreign Minister Gebran Bassil, the FPM leader, Sunday threatened to revive the controversial Orthodox Law, which calls for each sect to elect its own representatives, if its new proposal failed to break the monthslong deadlock over a new vote system.
Behind-the-scene talks involving the FPM, the Future Movement, the Amal Movement and Hezbollah are currently being held, focusing on vote proposals that are essentially based on a hybrid law that blends provisions of the proportional and winner-take-all systems.
Lebanese Forces chief Samir Geagea entered the electoral law fray Tuesday by calling on lawmakers to vote on several draft electoral proposals if no agreement was reached by rivals on a new voting system.
Speaking to reporters after meeting Aoun at Baabda Palace, Geagea said the president's main concern was to reach a new electoral law, adding that the LF was in agreement with Aoun on rejecting parliamentary elections held under the 1960 formula.
Geagea said he discussed with Aoun the ongoing consultations between the opposing sides, in addition to the 2017 draft state budget currently being examined by the Cabinet. "The parliamentary majority agrees on the need to draft a new vote law. But the problem is in the shape of the law to be adopted," Geagea said. He added that if the current consultations lead to an accord on an electoral law, this would be positive. "But if no agreement is reached, I don't see any barrier at all to go to Parliament and vote on two, three or more draft laws," the LF chief said. "I don't see any other solution. It is unacceptable not to agree [on a vote law], or not to go to Parliament."
However, Speaker Nabih Berri staunchly opposes putting draft electoral proposals to a vote in Parliament, arguing that such a move would threaten the country with civil war in the absence of consensus among rivals.
"This proposal [putting draft electoral laws to a vote] is entirely out of the question because it will threaten a civil war," Berri said in remarks published by newspapers Monday. "Lebanon cannot endure an electoral law not based on consensus. This [electoral] law is related to the composition of power. Therefore, the victory of a specific draft law with a majority vote will mean a defeat for another faction."
The Future Movement's parliamentary bloc underlined the importance of reaching a "consensual" hybrid electoral law.
"The bloc stresses the importance of the political parties reaching a consensual electoral law based on a hybrid system that [blends provisions of] the majoritarian and proportional systems and does not eliminate any party," the bloc said in a statement after its weekly meeting.
Referring to the Cabinet discussions on the 2017 draft need to endorse the budget as soon as possible while balancing expenditures and revenues."
Aoun's Change and Reform bloc said it was exploring a new vote law after two hybrid proposals presented by Bassil had been spurned by MP Walid Jumblatt's bloc and other parties.
"Regarding an electoral law, we have made initiatives on one proposal after the other. The proposals were discussed and they said they had collapsed. What matters is that we are taking an initiative and we will not lose hope of our proposals," Justice Minister Salim Jreissati told reporters following the bloc's weekly meeting chaired by Bassil.
He said the FPM was seeking a voting system that ensures "true and effective political representation" under unified criteria. "We will continue taking initiatives. When the initiatives stop, the head of the bloc and the FPM [Bassil] will announce the next steps," Jreissati said.
Meanwhile, Interior Minister Nouhad Machnouk apologized to Prime Minister Saad Hariri for arriving late to a Cabinet meeting that had been canceled due to a lack of quorum.
Machnouk said in a tweet that he contacted Hariri to express regret over his late arrival to the Grand Serail Monday.
The Cabinet is scheduled to hold another session Wednesday to resume discussions on the draft budget.