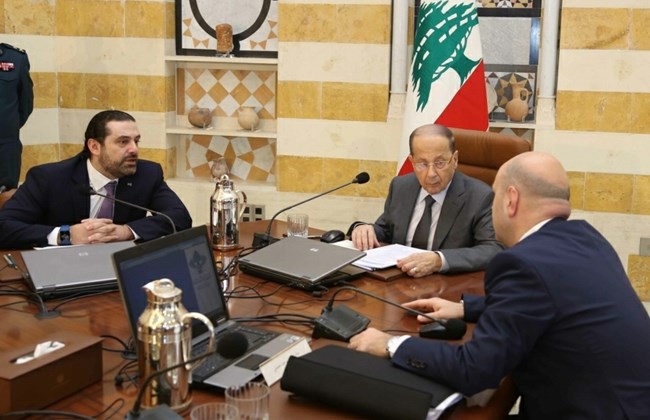 Aoun, Hariri refuse to sign Machnouk's election decree
Hussein Dakroub/The Daily Star/February 20/17
BEIRUT: President Michel Aoun will not ink a decree signed by Interior Minister Nouhad Machnouk calling on voters to prepare for the upcoming parliamentary elections in order to avoid the polls being held under the disputed 1960 majoritarian law, officials said Sunday.
In a show of solidarity with Aoun, Prime Minister Saad Hariri is also unlikely to sign Machnouk's decree so as to avert a political spat with the president as efforts have been intensified to reach a new vote system to replace the 1960 law, a Future Movement MP said.
In a widely expected measure, Machnouk Saturday signed a decree calling voters to participate in parliamentary elections slated for May 21. However, the decree has not yet been sent to the prime minister and the president because it was signed three days ahead of the Feb. 21 constitutional deadline.
The decree calls on resident and nonresident members of the electorate to participate in the polls.
"Definitely, President Aoun will not sign the decree calling on voters to participate in elections when the decree is sent to Baabda Palace," an official source at the presidential palace told The Daily Star. "Signing the decree will mean the president agrees to holding the elections under the current [1960] law.
"The president's stance has not changed: The elections must be held under a new electoral law, with no return to the 1960 law," the source said. He added that crossing the Feb. 21 deadline did not mean that efforts would stop to agree on a new vote system. "This deadline can be extended to March 21 or the country can go to a technical delay of the elections to give time for the implementation of a new electoral law."
Aoun and his Free Patriotic Movement have reiterated their support for a vote system based on proportional representation, a stance backed by Hezbollah and the Amal Movement. "Although the president has proposed proportionality as the best electoral law, he is ready to accept any accord that might be reached by the rival factions on a draft law that achieves genuine popular representation, justice and equality among the Lebanese," the source said. According to the source, "behind-the-scenes consultations are being held to reach a voting formula that blends [provisions] of the majoritarian and proportional systems and gains the approval of all the parties."
Future Movement MP Mohammad Qabbani said he expected Hariri to refrain from signing Machnouk's decree in order to avoid embarrassing Aoun over "something that will not lead to holding the elections.""Prime Minister Hariri prefers to maintain accord and coordination with President Aoun over embarrassing him over the electorate decree," Qabbani told The Daily Star.
Machnouk has said that he was "obliged" by law to call on voters to prepare for elections ahead of the Feb. 21 deadline. He said if rivals agreed on a new law, then a "technical" delay of elections would occur to train employees and explain the new law to voters. Last month he ordered provincial governors to kick off preparations for parliamentary elections, inspect polling stations throughout the country and report back to the ministry within 20 days.
During a Cabinet session last month, Aoun refused to discuss Machnouk's demand for the formation of a 10-member commission to oversee the parliamentary elections before an agreement is reached on a new voting system.
MP Ibrahim Kanaan, head of the FPM's parliamentary Change and Reform bloc, said Machnouk's decree would not go into effect unless it was signed by Aoun. "The president's clear stance on [the need] to hold parliamentary elections under a new electoral law is irreversible," Kanaan told LBCI.
In another interview with MTV Sunday, Kanaan said Aoun might call for a national dialogue to be attended by the country's top leaders to agree on a new electoral law. "President Aoun will not keep silent," he said.
Foreign Minister Gebran Bassil, the FPM leader, expressed confidence that a vote law partly based on proportionality would eventually be reached.
"Lebanon cannot bear the idea of exclusion or elimination of political, partisan or sectarian minorities. Hence, all sides have conceded the need to approve proportionality in an electoral law. Or else, Lebanon is heading toward the abyss, meaning a [parliamentary] vacuum that Lebanon has not experienced before," Bassil told the Second Annual Conference for Municipalities organized by the FPM at Hilton Habtoor Hotel in Sin al-Fil.
Bassil said that the alternative to a parliamentary vacuum is the endorsement of a vote law that allows "elections and a political process in which all parties are represented."
"We want the approval of a new electoral law. All discussions on proposed [vote] law do not ensure Christian representation of 64 MPs [half Parliament's 128 members]," he added. Bassil voiced support for a hybrid vote law that calls for a qualifying round at the sectarian level and later voting at the proportional level.
Health Minister Ghassan Hasbani, one of three Lebanese Forces ministers, defended a hybrid vote law. He said Machnouk's call on voters to get ready for elections did not mean that the elections would be held under the 1960 law. "A hybrid law means each side must concede some of its demands. We are in a transitional stage and we must take into account the sectarian and provincial distribution [of parliamentary seats]," Hasbani told the Voice of Lebanon radio station. He called for putting the issue of a vote law quickly on the Cabinet agenda to endorse it.
MP Walid Jumblatt has ramped up his opposition to a proportional vote law by calling for the adoption of a modified version of the 1960 system, or the creation of a senate and the abolition of political confessionalism as stipulated by the 1989 Taif Accord.
Separately, Parliament Speaker Nabih Berri is set to leave Monday for Tehran to attend a regional conference. It was not immediately clear whether Berri would hold talks with senior Iranian officials during his visit.
Meanwhile, the Cabinet is scheduled to meet under Hariri at the Grand Serail Monday to resume talks on the 2017 draft state budget amid growing opposition among ministers to a series of proposed taxes to finance the public sector's wage hike bill. Finance Minister Ali Hasan Khalil estimated the cost of financing the proposed salary scale bill at LL1.2 trillion ($800 million).