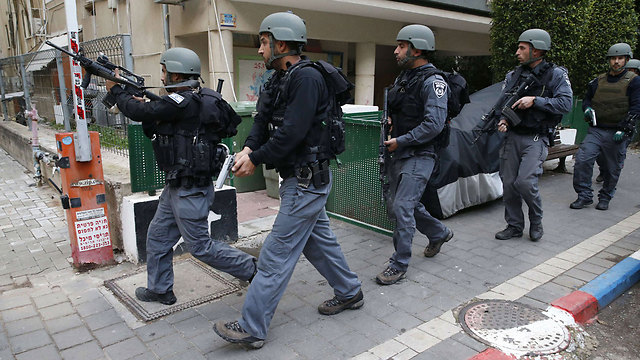 Suspected terror attack: Two dead in Tel Aviv shooting


Ynetnews/January 01/16
Shots fired into crowded pub on Dizengoff street, killing two and wounding four; security forces searching for the shooter, who fled the scene.
Two people were shot dead and six others wounded in a shooting at a crowded pub on 130 Dizengoff Street in Tel Aviv on Friday afternoon in what is suspected to be a terror attack.
Two of the wounded have been hospitalized in serious condition. Two more were moderately wounded, one lightly-to-moderately wounded and another lightly wounded. The director of Ichilov, Ronni Gamzu, said the two who were seriously wounded are still in surgery and remain in life-threatening condition.
Israeli forces were searching for the shooter, who fled the scene. Armed security forces are conducting a massive search in Tel Aviv.
A police spokesperson from Tel Aviv District Police said: "We received a report of a shooting incident. Large forces arrived on the scene and forces are searching for the shooter."
Many residents of Tel Aviv are staying inside their homes while the shooter remains at large. The police spokesperson emphasized that there have been no orders for residents to remain in their homes, but that anyone seeing anything suspicious should report it to the police.
Newly sworn-in Israeli Police Chief Roni Alsheikh went to the scene, as did Tel Aviv Mayor Ron Huldai said that while it is still not certain whether the background to the attack was national or criminal, it appeared to be nationalistically-motivated.
Some of the injured were hit by glass shards broken by the bullets, and some were wounded from the chaos that broke out, said Yehuda Hildeshaim, a volunteer with United Hatzalah.
"When I got to the scene I found one person who was critically wounded and unconscious after being shot. Several of us from the Hatzalah unit gave him first aid and he was evacuated to Ichilov Hospital in Tel Aviv.
"Following that we continued to treat other wounded at the scene."
One witness told an investigator that the attacker fired around 10 shots. "It sounded like a Kalashnikov. He had a grey coat and he was alone. He was a big man with a stocking over his head. He shot from north to south and then continued on."
Avi, who lives close to the scene of the attack, said: "I heard something like 10 shots. I was next to one of the cafes. I saw people running in the street and wounded sprawled on the street."
Eli Senyor, Noam (Dabul) Dvir and Rotem Elizera contributed to this report.
Shooting attack in heart of Tel Aviv kills two, injures eight


DEBKAfile Special Report January 1, 2016,
A gunman in black opened automatic fire on crowds outside the Dioz Bar, on Dizengoff Street in central Tel Aviv Friday, Jan. 1, injuring 10 people, two of whom died of gunshot wounds and four were seriously injured. He escaped as large police and security forces reached the scene. They have cast a wide net to hunt the killer in the neighboring streets up to the seaside promenade. Police officials decline at this point to determine whether the gunman was a Palestinian or Islamic terrorist or a criminal murderer.
In the former case, the Tel Aviv attack would be the most serious terrorist atrocity in the three-month wave of violence launched by the Palestinians three months ago.
Conflicting reports have come in from eye witnesses, who saw the young man clad in black and masked, spraying the street and tables outside a cafe with automatic fire. Two saw the shooter running off after the attack and chased by civilian security guards with drawn pistols who gave up when the police arrived. Other witnesses said there were two shooters, one a woman, who fired into shop windows and at passersby on their way to escape in a waiting car. According to another, he escaped on a motorbike. One witness saw him sitting on a street bench and opening fire when the street became crowded. They all agreed that he was extremely calm.
Shocked Tel Aviv veterans report they had never before seen a large pack of civilians and police running down a main city street with drawn guns. After the shooter escaped, the police turned to sweeping nearby buildings, combing through apartments and picking up suspects and witnesses.
debkafile's counterterrorism sources say that the Tel Aviv gunman's modus operandi is unfamiliar to Israel's anti-terror services. It is not typical of Palestinian methods of murder, but more closely resembles the Islamic State massacre in Paris on Nov. 13.