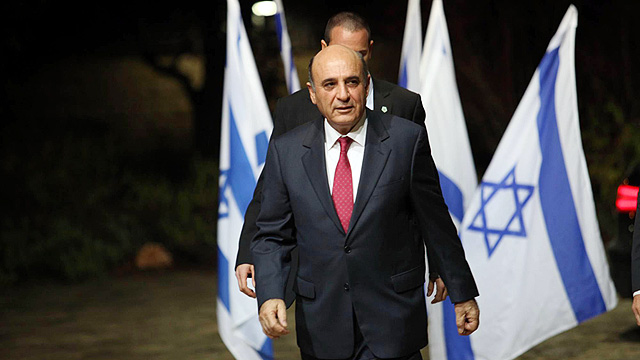 Former Israeli Army (IDF) Chief lands safely in London


Itamar Eichner/Ynetnews /Published: 06.20.15, 22:23 / Israel News
Shaul Mofaz whisked away from airport in embassy vehicle amid concerns he could be arrested; status as a private citizen reportedly prevented efforts to grant him immunity. Former Minister and IDF Chief of Staff Shaul Mofaz has landed saftely in London, and swiftly departed the airport in an embassy vehicle. Officials feared that Mofaz could face possible arrest upon landing after all efforts to secure him diplomatic immunity failed due to his current civilian status.
The embassy fears that like other Israel officials in the past, Mofaz will be pursued by pro-Palestinian groups, who use UK courts to file for arrest warrants. According to channel 2 news, all efforts to secure diplomatic immunity for Mofaz failed, and the UK foreign office was unable to guarantee his immunity due to his current status as a private citizen. Mofaz flew to London in order to attend the "Jewish News" conference Monday. The Israeli Foreign Ministry, the embassy in London, and the local Jewish community pressured local officials to allow his arrival without delay, however no guarantees where made. Former high ranking Israeli officers and officials have largely avoided travel to the UK for the last decade, out of fear that arrest warrants would be issued against them. An arrest warrant was issued for former Foreign Minister Tzipi Livni in 2009 over her 'involvement' in Operation Cast Lead. Major General Doron Almog was forced to wait on board an ELAL plane at Heathrow in 2005, after he was alerted to the presence of police officers at the gate with an arrest warrant in his name. Almog was in London to raise money for the 'Alleh' organization, which houses children with mental illness. Former Defense Minister Mofaz and MK Amir Peretz where evacuated from London during a visit, when information came about that an arrest warrant was issued for them. Some of the former and current officials who have avoided the UK are; former Shin Bet head Avi Dichter, Moshe Ya'alon, Dan Meridor, and Netanyahu's Military attaché Yochanan Loker- who served as head of the air force directorate during cast lead. The law which allowed pro-Palestinian groups to seek arrest warrants for Israeli officials was changed in 2011. The new amendment is meant to prevent frivolous use of the UK's legal system for political gains against Israel.
The Foreign Ministry in response: " Two diplomats from the London embassy are on the way to great Shaul Mofaz at the airport. We are ready to deal with any devolpments."

German police arrest Al-Jazeera journalist in Berlin: lawyer
Reuters/June. 20, 2015
BERLIN: A leading Al-Jazeera journalist was arrested at a Berlin airport on Saturday at the request of Egypt, a lawyer for the Qatar-based satellite network said, a move he described as part of a crackdown by Cairo on the channel. International lawyer Saad Djebbar told Reuters Ahmed Mansour, one of the most senior journalists on the channel's Arabic service, had been abruptly and unexpectedly arrested in Germany. A spokesman for the German Federal Police confirmed that a 52-year-old man was arrested at Berlin's Tegel airport at 1:20 p.m. GMT following an international arrest warrant from the Egyptian authorities. The spokesman said the general public prosecutor was now checking the man's identity, as well as a possible extradition to Egypt. Cairo's criminal court sentenced Mansour, who has dual Egyptian and British citizenship, to 15 years in prison in absentia last year on the charge of torturing a lawyer in Tahrir Square in 2011. Jazeera said at the time the charge was false and an attempt to silence Mansour. "This is a very serious development," said Djebbar. "We knew that the Egyptians were going to set such a trap to harass our journalists and that is what has happened." Mansour was arrested as he tried to board a Qatar Airways flight from Berlin to Doha, Djebbar said. Egyptian authorities accuse Al-Jazeera of being a mouthpiece of the Muslim Brotherhood, the Qatar-backed movement which President Abdel Fattah al-Sisi toppled in 2013 when he was Egypt's army chief. Jazeera is also locked in a legal battle with the Egyptian authorities to try to secure $150 million in compensation for what it says was damage to its media business inflicted by Cairo's military-backed rulers.In February this year, Egypt released Al-Jazeera journalist Peter Greste after 400 days in prison on charges that included aiding a terrorist group.