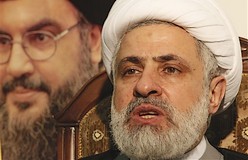 Sheikh Naim Qassem, deputy: Hezbollah to back Assad for 'as long as it takes


May. 21, 2015/Reuters
BEIRUT: Lebanon's Hezbollah says the Middle East is at risk of partition and sees no end to the war in Syria, where it is fighting alongside President Bashar Assad against insurgents supported by his regional enemies.  Sheikh Naim Qassem, deputy leader of the Iranian-backed group, said the insurgents would be unable to topple the Assad government despite their recent gains in battle, including this week's capture of Palmyra by ISIS.
In an interview with Reuters, Qassem said Assad's allies – Iran, Russia and Hezbollah – would back him "however long it takes." There could be no solution to the war without Assad, and it was time for "Arabs and the world" to realize that, added the white-turbaned cleric, speaking at Hezbollah offices in Beirut.  Hezbollah has been a crucial ally to Assad in the four-year-long war, sending its fighters to help him hold on to territory and power.  The Lebanese group, a Shiite Islamist party with a powerful armed wing, describes its role as part of a struggle against jihadis who are a growing threat to the region.
The regional instability has been fuelled by rivalry between the Shiite Islamist government of Iran and the conservative Sunni Muslim kingdom of Saudi Arabia, one of the main sponsors of the insurgency against Assad.  Qassem said Saudi policy was to blame for regional conflicts including the most recent one in Yemen. He accused Riyadh of "double standards," backing radical Sunni Islamists, or "takfiris," across the Middle East, while seeking to suppress them at home.  He also blamed Washington, saying it was waiting to see how things turned out instead of adopting clear policies.
Saudi Arabia has denied accusations of backing radical Islamists. It says Iran's efforts to expand its influence are the main source of instability in the Middle East.  "The region is today on fire, tense, without any proposed solutions. It seems this will continue for a number of years, and there is also the risk of partition in some of its countries," said Qassem.
IRAQ HOLDS KEY
"The biggest danger in the plan to partition the region is for Iraq, because America is promoting this, and it seems there are some elements in Iraq that want this, but it has not matured yet," he said. Washington says it supports a united Iraq.  Destruction would continue in Syria because it would not submit, Qassem said. "Solutions for Syria are suspended. There is no political solution in the foreseeable period, and it is left to attrition, to the battlefield, and to wait for other developments in the region, particularly Iraq," he said.
With the United States leading an air campaign against ISIS militants in northern and eastern Syria, Assad had appeared increasingly confident at the turn of the year.  But since late March, he has faced significant setbacks.  Wide areas of territory in the northwestern province of Idlib have been lost to an alliance of mainly Islamist insurgent groups believed to be backed by Turkey, Saudi Arabia and Qatar, which all want to see Assad gone from power.  Other insurgents have made gains in south at the border with Jordan, while ISIS – the most hardline and powerful insurgent group in Syria – has been attacking government-held areas, putting the over stretched army under even more pressure.
Qassem said ISIS's capture of the ancient city of Palmyra from the army this week was part of the ebb and flow of the war in which ground lost in one area is made up in another.  "It is normal to lose in some areas and win in others," he said. "What is happening is attack and retreat which does not change the equation neither geographically or politically."  Assad's losses in Idlib have been at the hands of an alliance of Islamists including the Al-Qaeda-linked Nusra Front and the hardline Ahrar al-Sham. They have come together under the banner of the Army of Conquest.  Qassem said Qatar, Saudi Arabia and Turkey were training, arming and funding these groups to try and shift the military balance by bringing together "takfiri terrorist forces" with U.S. supervision.
"This shift in balance is temporary and not fundamental and does not the change the equation in Syria," he said.  Qatar and Turkey deny backing radical jihadi groups such as ISIS, while not hiding their support for the insurgency against Assad.  Hezbollah says its offensive with the Syrian army against insurgents including the Nusra Front in the mountains between Lebanon and Syria was ongoing and partly to protect Lebanon, targeted by suicide attacks since Syria's war began in 2011.  "Syria's allies are continuing in supporting Assad's Syria until the end, regardless of how long it takes," Qassem said.