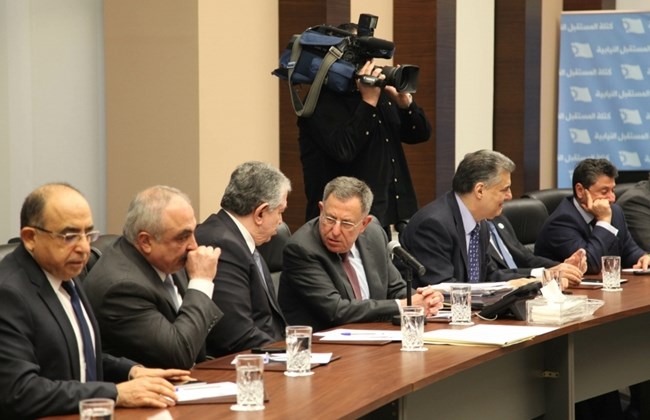 Saudi Arabia backs Future, Hezbollah dialogue


Wassim Mroueh/The Daily Star/ Apr. 15, 2015
BEIRUT: Hezbollah and the Future Movement discussed security measures to preserve stability during their 10th dialogue session Tuesday, as Speaker Nabih Berri said Saudi Arabia fully supported the talks between the rival parties.
A terse statement issued after the meeting held at Speaker Nabih Berri's Ain al-Tineh residence said that Future and Hezbollah officials discussed "continuing security measures in all Lebanese areas in order to immunize the domestic scene." Last week, the Internal Security Forces shot dead two militant jihadis in Tripoli and arrested a preacher wanted over killing Army soldiers.
The statement said that participants in the dialogue also tackled "other topics which interest the Lebanese and some issues related to Syrian refugees." Quoting dialogue participants, Hezbollah's Al-Manar TV said Future and Hezbollah officials discussed moving the tents of Syrian refugees in the northeastern town of Arsal to another place.
Interior Minister Nouhad Mahcnouk had made this proposal months ago, arguing that the presence of tens of thousands of Syrian refuges in and around the town was posing serious security threats, describing Arsal as an "occupied town." Arsal was briefly invaded by jihadi militants last summer.
Like previous sessions, representing Hezbollah in the talks were MP Hasan Fadlallah, Industry Minister Hussein Hajj Hasan and Hussein Khalil, a political aide to Hezbollah leader Sayyed Hasan Nasrallah. Attending on behalf of the Future Movement were Machnouk, MP Samir Jisr and Nader Hariri, the chief of former Prime Minister Saad Hariri's office.
Also on hand was Finance Minister Ali Hasan Khalil, a political aide to Berri. The new round of talks came amid soaring tensions between Hezbollah and Future, caused by the war of words between both groups over the Saudi-led military operation in Yemen which kicked off last month. Hezbollah has lashed out at the kingdom over its military intervention in Yemen, while Future has fully backed the step.
Berri told his visitors Tuesday evening that Saudi Ambassador to Lebanon Ali Awad Asiri, who visited him the same day, had expressed his country's support for the Hezbollah-Future dialogue. Asiri held talks with Prime Minister Tammam Salam as well. Berri revealed that he had tasked Minister Khalil with urging Hezbollah and the Future Movement to refrain from escalatory stances.
"Why don't they do like Iran and Saudi Arabia, which despite their differences, maintain a low rhetoric and voice their interest in dialogue?" Berri said. The speaker said that both Hezbollah and the Future Movement still backed dialogue. Berri also said that he would chair a meeting for Parliament's Secretariat Thursday to put the agenda for an upcoming Parliament session which would engage in "necessary legislating."
But in what reflected a continuation of the war of words over the crisis in Yemen, Machnouk expressed his opposition to insults against Saudi Arabia, saying the kingdom had always stood beside Lebanon. Addressing a gathering of Beiruti families, Machnouk said that he who resorted to elimination, aggression and hijacking the wills [of people] would actually be humiliated.
The minister was indirectly responding to a speech made by Iran's Supreme Leader Ayatollah Ali Khamenei last week in which he said that Saudi Arabia would be humiliated and would not emerge victorious in Yemen. Meanwhile, the Future parliamentary bloc said that dialogue with its rival Hezbollah was necessary, despite the stagnation talks have reached.
"The bloc considers that ongoing dialogue with Hezbollah under the current circumstances is a necessity that should continue despite the big gap between ambitions and reality regarding its results, as it has reached stagnation and lack of progress in several issues," the Future bloc said in a statement after its weekly meeting.
The bloc said also that deep disputes with Hezbollah persisted, but added that dialogue was still required in order to reduce tension and pave the way for national consensus leading to the election of a president. Separately, Free Patriotic Movement leader Michel Aoun's parliamentary bloc reiterated its objection to extending the term of senior security officials.
"The bloc insists that the Cabinet should immediately put an end to these dangerous violations, through the immediate appointment of Army and Internal Security Forces officials," the bloc said after its weekly meeting in a statement read by former Minister Salim Jreissati.
Aoun argues that extending the terms of security officials violated the National Defense law and that regulating the ISF.
Amid a lack of consensus on a successor and in order to avoid vacuum in a security post when the country is going through a critical period, Defense Minister Samir Moqbel extended last month the term of Brig. Edmond Fadel, the director general of Army Intelligence.
The term of Brig. Ibrahim Basbous, the head of the Internal Security Forces, expires in June and that of Army Commander Gen. Jean Kahwagi in September. The terms of both could be extended.
Aoun dismisses claims by rivals that his opposition to extension aimed at paving the way for his son-in-law, Brig. Shamel Rukoz, to become the new Army commander. But he argues that Rukoz, like other senior Army officials, has the right to aspire for occupying the highest Army post.