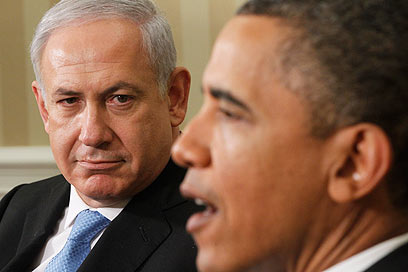 Report: Senate panel probing possible Obama administration funding of effort to unseat Netanyahu


By JPOST.COM STAFF/03/14/2015
A US Senate investigatory committee has launched a probe into an American nonprofit's funding of efforts to oust Prime Minister Benjamin Netanyahu after the State Department of US President Barack Obama gave the nonprofit taxpayer-funded grants, Fox News reported on Saturday. According to the news outlet, a source with knowledge of the panel's activities told it that the probe was underway and was bipartisan in nature. According to the source, the probe is looking into "funding" by the OneVoice Movement – a Washington-based group that has received $350,000 in recent State Department grants, Fox News reported.
A spokesperson for Sen. Rob Portman, (R-Ohio), the chair of the committee, refused comment on the report to Fox."The Permanent Subcommittee on Investigations does not comment on ongoing investigations," Caitlin Conant, spokeswoman for Portman, told Fox. Earlier this week, Netanyahu suggested to a meeting of Likud activists in Kiryat Gat that there is an international effort to remove him from power.
In a recording of the meeting obtained by Army Radio, Netanyahu is heard saying of the current election campaign, "This is a very close battle. Nothing is ensured because there is a great, worldwide effort to topple Likud rule."According to Fox, the Israel-based Victory 15 campaign which seeks to "replace the government" in Israel is a "subsidiary" of OneVoice.
OneVoice defines itself as an "international grassroots movement that amplifies the voice of mainstream Israelis and Palestinians, empowering them to propel their elected representatives toward the two-state solution."One expert told Fox earlier this month that the State Department grants constituted "indirect Obama administration funding of the anti-Netanyahu campaign by providing OneVoice with the $350,000 – even though State Department officials said the funding stopped in November, ahead of the announcement of the Israeli election."
OneVoice is barred from directly targeting Netanyahu by US law regulating its tax-exempt status, and doing so would threaten that status, Fox News wrote in the report.Last month, Central Elections Committee chairman Justice Salim Joubran ruled that the Likud was unable to prove a connection between V15 and other organizations to the Zionist Union and Meretz.
Joubran rejected the Likud's petition to block activity by organizations V15, One Voice and Molad and by strategist Eyal Arad on grounds that they are indirectly campaigning for the Zionist Union and Meretz, and required the party to pay NIS 48,000 in legal fees.
The Likud accused the Zionist Union and Meretz of illegally accepting donations from non-Israeli citizens and organizations with foreign funding via V15, which seeks Prime Minister Benjamin Netanyahu's defeat in the election, and other left-wing organizations. V15 is partly funded by S. Daniel Abraham and Daniel Lubetzky, who are not Israeli citizens. Joubran also said that the party would have to prove that V15 was campaigning for a specific party for it to be illegal, and not the organization's stated purpose of changing the country's leadership, or even support for the Center-Left.