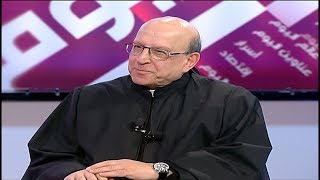 A Message Of admonition To Father Georges Hobeika: The Lebanese dialect does not make a Saint Paul Context sermon…




Elias Bejjani/September 15/2021
We were waiting with high hopes and expectations to hear what Father George Hobeika would say in his sermon during Martyr President Bashir Gemayel's annual mass prayers in Bkfaia. Sadly the outcome was not what we expected and hoped for.
We were eager to hear a sermon that would raise and ignite the morale and strengthen the sovereign and patriotic Lebanese who are subjected to a systematic misleading campaign aiming to thwart their zeal and weaken them in encountering the ongoing plot to change the civilized face of Lebanon, for which martyr Bachir gave his life in order to achieve it.
Father Hobeika's sermon was in the Lebanese dialect, which Bashir adored and proudly used in his speeches, but its content was flatulent and void of Bashir's strength in confrontation, will of steadfastness and determination to liberate Lebanon from all occupation.
The sermon was merely rhetoric and focused on philosophers' quotations describing the character and qualities of the statesman which Bachir strongly possessed and used. Meanwhile the most important quality that a statesman should enjoy is his capability to translate his words into actions, an opportunity that was not provided to Bashir to achieve.
What we actually needed from Father Hobeika, the philosopher, is to loudly and courageously present a different creative reading of Bashir's heroic resistance path, in a bid to solidify and strengthen our determination and courage in confronting the occupier from within, as well as to remain standing tall in facing the international conspiracy against our independence; the two acts that Bashir, and the "Lebanese front" persisted on doing in defeating sovereignty, while the whole world conspired against our beloved country.
I, personally wonder what makes a brave and highly educated monk like Father George Hobeika patriotically back off, and not witness for the truth at a time when we are in the greatest need of confrontation and steadfastness.
Is this the policy of the Lebanese Maronite Order, which, according to our knowledge, prohibits its monks from interfering in public affairs and politics, in order to preserve its interests with the ruling authority, on the Vatican request, and a tacit approval of Bkerke?
Or is it a personal request from the Gemayel family, who are preparing to restore their past glories in the upcoming parliamentary elections?
What myself and many others fear the most, is that this very low patriotic profile sermon might be related to calculations that have to do with the monastic elections that will take place a year from today.
Dear Father Hobeika, please note that your sermon is frustrating and lacking the needed patriotic stances, exactly like the void created by your monastery through confining and isolating itself within its monasteries and institutions, while our people are in dire need of its leadership, help, guidance and directions.
It is worth mentioning that the current Iranian occupation is more dangerous than the "statoko" that existed between the 1969 Cairo Agreement and the 75th War.
Don't you think that the time has come to go back to Abbot Charbel al-Kassi's saying: "Our people will blame us if we leave them alone, and want us to go with them"?
Dear father George Hobeika, Lebanon's salt is the monks, and without them, openly, loudly and courageously playing their heroic role that they have historically played, Lebanon's independence, sovereignty and existence will be in danger.
In summary, what we need at this present time is sermons that inspire hope, steadfastness, faith, perseverance, and at the same an active leading role for our monks who are Lebanon's salt.
We miss the active role of our monks. They are the salt, conscience and inspiration of Lebanon, and without their active resistance and leadership role in confronting Iran's occupation, Lebanon's existence will be in real danger.
الياس بجاني/رسالة عتب إلى الأب جورج حبيقة: اللهجة اللبنانيّة لا تصنع عظة مار بولسيّة/Elias Bejjani/A Message Of admonition To Father Georges Hobeika: The Lebanese dialect does not make a Saint Paul Context sermon